Collaboration between Ionian University and American universities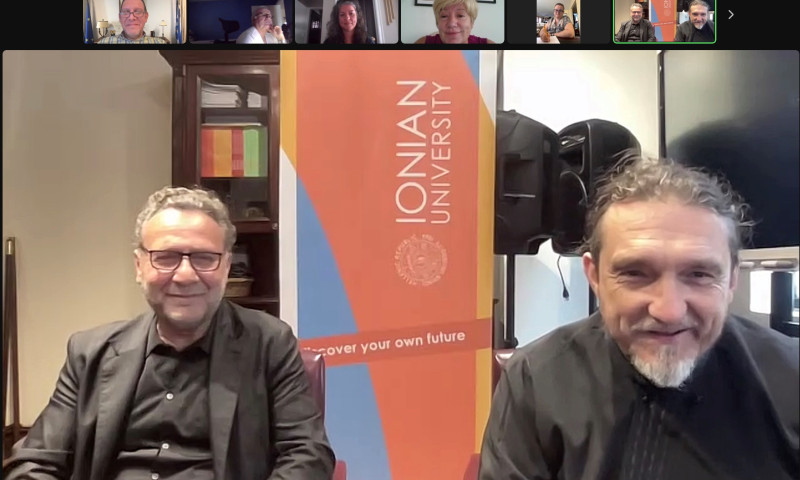 Στιγμιότυπο από την τηλεδιάσκεψη για την υπογραφή του μνημονίου συνεργασίας μεταξύ Ιονίου Παν/μίου και Hellenic American Project (HAP) του Queens College της Νέας Υόρκης
Ionian University
20 Σεπτεμβρίου 2023
/
09:42
CORFU. Online memoranda were signed, which include research and teaching projects.
The Ionian University has entered into another two significant collaborations with academic institutions in the United States. These were officially formalised with the online signing of memoranda of cooperation with the University of Alabama and the Hellenic American Project (HAP) at Queens College in New York on Wednesday, September 13.
Discussions for collaboration with the University of Alabama began during the visit of the US delegation to the Pharos Summit held in November 2022. A subsequent visit by a large delegation to Corfu Town in June 2023 finalised the areas of mutual interest, as outlined in the memorandum of cooperation. These areas include the organisation of joint study programmes, student and academic/research staff exchanges, as well as the development of collaborative projects, conferences and summer schools.
Similarly, the starting point for the collaboration with the Hellenic American Project (HAP) at Queens College in New York was the opening of the Ionian University's office in the United States. This collaboration encompasses activities related to the documentation, digitisation and teaching of the history of the American Greek diaspora. These activities include digitising federal archival radio material, historical analysis of existing archival material, collaboration in the promotion of museum material already exhibited by HAP in New York City and the exchange of academic personnel specialising in the history of the diaspora.
These two new collaborations of the Ionian University further expand its already significant international presence in the United States in the field of research, creating opportunities for cultivating academic partnerships benefiting both students and faculty members of the collaborating institutions. Additionally, other American institutions have already scheduled visits to the Ionian University in the near future (October 2023), such as the University of Kentucky, with which the framework for cooperation in areas such as music studies and audiovisual arts has already been finalised.
Photo: From the teleconference for the signing of the memorandum of cooperation between the Ionian University and the Hellenic American Project (HAP) at Queens College in New York - in the larger frame, you can see Professor Nikolaos Alexiou of Queens College in New York and the ecclesiastical leader of the community of Agios Spyridon, Father Grigorios Stamkopoulous.