Dutch speleologist and caver René van Vliet discovers an unexplored chamber in Platesgourna cave!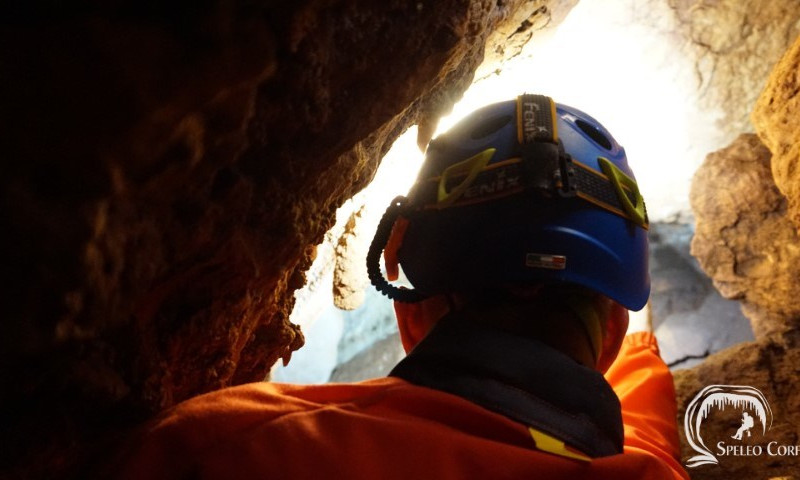 René van Vliet
10 Σεπτεμβρίου 2019
/
06:13
CORFU. The speleologist and caver writes exclusively for Enimerosi about his discovery in Spartilas.
"I have a great interest in the village of Spartilas, which has caves such as the large, deep Gravolithia cave with its fantastic stalactite formations. The cave is known for an interesting story from 1926. There are also two anonymous caves in Spartilas located on private property. And only a few people know the Deep Cave and the
Grava tis Oxias to Kathisma cave
(
'Vulture's Roost'
in random translation) which are located above the village.
The Platesgourna cave was discovered by Nikos Gisdakis in the winter of 2018 and in
April 2019
I
visited the cave for the first time
. The cave is hidden in an olive grove and has two small entrances, only one of which is accessible. After passing through a small 'hall' one discovers the stunning beauty of the first chamber. There are a large number of stalactites along with various groups of stalagmites and columns. The cave is exceptionally fragile due to its unique undivided space.
The first chamber in Platesgοurna cave.
On Wednesday 28 August I returned with special lamps to map the cave and photograph its extraordinary decoration. On Saturday 7 September I visited it for the third time this year. The air in the cave was damp and there was a high level of humidity. When I was in the upper part of the cave I suddenly saw an open space - behind a large rock and beneath the first chamber there is a second chamber with stalactites and a group of four stalagmites. The tallest stalagmite is about 1.5 metres high. Access is difficult because I have to roll over the rock and then drill an anchor into the wall before descending with a rope. I had all the equipment with me except the drill. The new chamber will be explored very soon."
The unexplored chamber with stalactites and a group of four stalagmites.
The speleologist and caver René van Vliet is doing research in Corfu from 27 August to 13 September. More information about the caves in Corfu can be found on the
Speleo Corfu
website.
René van Vliet would like to thank all those who assisted him.
"I was able to visit the cave thanks to the kind and significant help of Nikos Gisdakis, CanyonZone, Rodcle, AventureVerticale, Climbing Technology, Vasilikos / Nitecore".