Regional Governor happy with readiness of Corfu Airport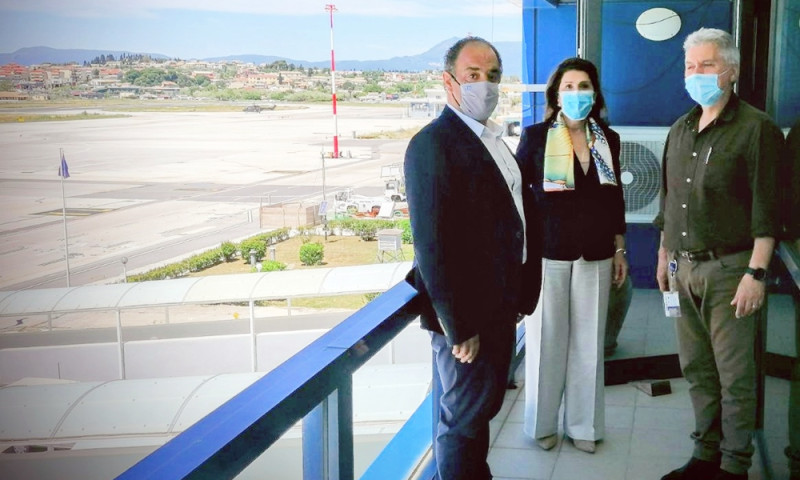 CORFU. Regional Governor Rodi Kratsa said: "Corfu International Airport is well-organised and in complete readiness to welcome our visitors."
With the restart of Greek tourism, Ionian Islands Regional Governor Rodi Kratsa paid a visit to the improved Corfu International Airport on Monday 17 May to inspect the facilities and find out how things had gone with the international arrivals from the UK.
The Regional Governor, accompanied by the Deputy Governor for Public Health, Social Welfare and Employment Kostas Zorbas, got an update from Fraport Director for Corfu Airport Spyros Kostouros on the implementation of the Covid-19 health protocols for checking, prevention and protection for international and domestic visitors.
Ms. Kratsa and Mr. Zorbas spoke with members of the EODY special team who are stationed at the airport to conduct rapid tests on visitors and were able to witness at first-hand the preparations and organisation.
The Airport Director told the Governor that up to the end of May there will be an average of 10 international flight arrivals per day. On Sunday 16th there were two TUI flights from Manchester and Gatwick and today, Tuesday 18 May, a British Airways flight is expected from Heathrow.
Spyros Kostouros also informed Ms. Kratsa and Mr. Zorbas that general air traffic has increased.
The Regional Governor expressed her satisfaction both with the organisation and readiness at the international entry point and with the number of flights already scheduled to arrive in the Ionian Islands Region from the important UK market.