Mayor Meropi Ydraiou meets with Serbian delegation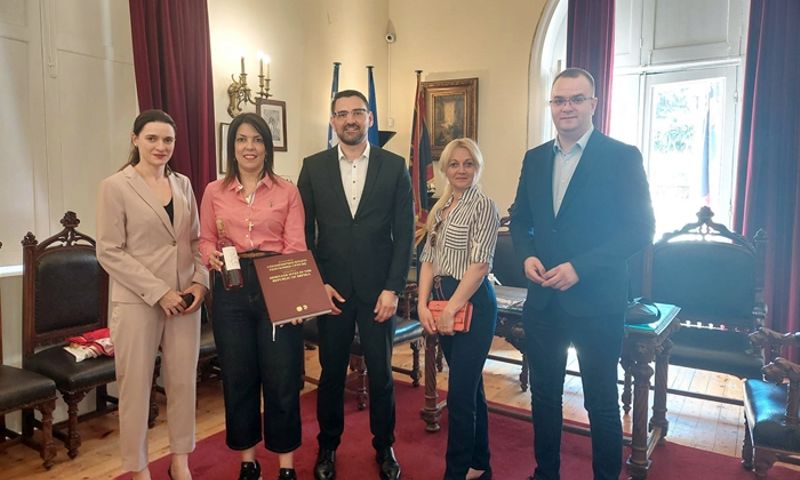 CORFU. She met with ex-footballers and participants in the Corfu Food and Wine Festival.
Central Corfu and Diapontia Islands Mayor Meropi Ydraiou met with the Serbian delegation that visited Corfu on the occasion of the friendly football match between A.O. Kerkyra and Red Star Belgrade veterans, as well as the team Boras,
During the meeting, the Mayor thanked the Serbian delegation for their participation in the sports event, as well as in the Corfu Food & Wine Festival held in Corfu from May 25th to 27th.
The Mayor once again referred to the strong bonds between Corfu and Serbia and emphasised the need for further development of relations in the fields of tourism, sports and culture.

"Our peoples have shared struggles and sacrifices," stated Ms. Ydraiou, "milestones in their history, a legacy they jointly passed down to future generations and became the foundation of a true friendship. We are proud to be a part of your history. We are proud that our ancestors supported the Serbian people during those difficult years, and we are here today to confirm and strengthen our relationship through sports, music, and gastronomy."
The Serbian delegation included Zlatan Klokic, Minister of European Integration and International Cooperation, Selma Čampara, Minister of Sports, Mario Duran, Deputy Minister, Jelena Jovanović, Head of the Serbian Republic Delegation to Greece and Željko Popović, President of the Corfu Hellenic-Serbian Friendship Association. At the end of the meeting, there was an exchange of commemorative gifts.