10% increase in July international arrivals compared to 2019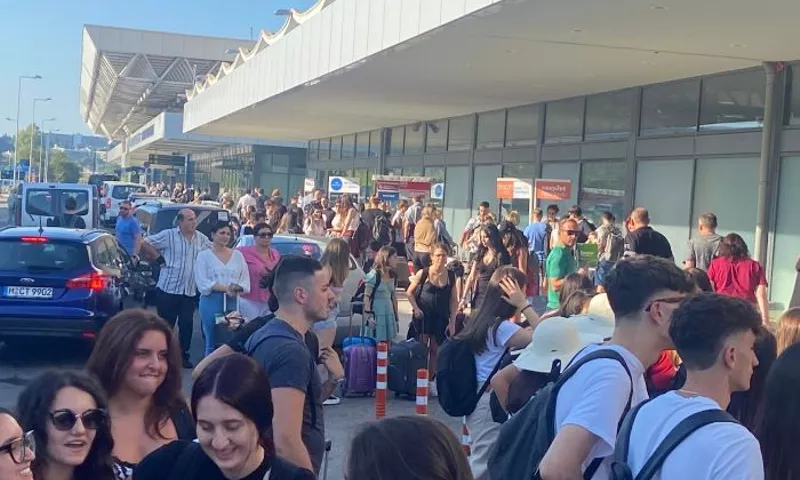 tourism
01 Αυγούστου 2022
/
12:47
CORFU. High occupancy rates at hotels and rented accommodation.
Predictions of a successful tourist season were confirmed with an increased number of international flight arrivals at Corfu Airport compared to 2019. The same positive results were also seen at hotels, with over 100% occupancy, and rented accommodation, with 90-95% occupancy.
The number of flight arrivals in July, with a total of 2,360 commercial flights from Europe, was 10% greater than the same period in 2019. The average flight occupancy was over 90%.
"We had 260 more flights than we did in July 2019 and over 350,000 passengers, possibly as many as 380,000 compared to 310,000 in 2019 and 320,000 in 2018, which was our best year," said Civil Aviation Authority Employees Union President Dimitris Roussos. "With the high flight occupancy rates we have been seeing, we expect the increase in visitors to be greater than 10%."
The highest number of arrivals have been on Sundays, with last Sunday, 31 July, seeing 89 international flights arriving at the airport.
Top countries
The UK was again top of the list in July with 712 flight arrivals, followed by Germany (379), Italy (280), France (191), Poland (149), Czech Republic (74), Austria (63), Romania (58), Belgium (55), Switzerland (53), Netherlands (50), Israel (34), Ireland (32), Sweden and Hungary (31), Denmark (29), Spain (22), Slovakia (21), Lithuania (18), Norway (17), Serbia (15), Bulgaria (14), Luxembourg, Estonia, Finland and Croatia (4) and Slovenia (1).
Interesting data
According to Dimitris Roussos, there were at least 90 more flights from Italy than there were in July 2019 - an increase of over 30%. "This comes as compensation for the loss of 80 flights from Russia and 10 from Ukraine in the same month," he said. "Despite the difficult situation in Poland due to the war, there were 25 more flights compared to July 2019. There were 25 fewer flights from the Netherlands and 10 fewer from the Czech Republic."
There has been a huge increase of 260% in the number of flights from Romania, with there being 42 more than the 16 in 2019.
"This year we have had two cruise ships using Corfu as a home port every Friday compared to one in 2019," Mr. Roussos said. "With the change of cruise passengers being 2,400 and there being five Sundays in July, 12,000 of the month's passengers were just from the cruise ships."
100% occupancy rates at hotels
Corfu Hoteliers Association Vice-President Spyros Rokkas told
Enimerosi
the hotel occupancy rates are over 100%. "Corfu is full of visitors. This season has been very good with regard to occupancy rates but problematic with regard to the price increases for commodities (electricity, gas) which affect profitability, and the difficulty in finding staff. None of the hotels have the number of staff that they would like."
He added that, although hotels aren't fully booked for September and October yet, he thought that this will change over time.
90-95% occupancy rates at rented accommodation
This year's tourist season has been just as satisfactory for rental accommodation owners. According to the President of Corfu Federation of Tourist Accommodation Owners Pericles Katsaros, occupancy rates are at 90-95% and there is optimism that the season will continue until the end of October.
"Occupancy rates and bookings are higher than normal," said Mr. Katsaros. "All our colleagues are happy and business is going well. Of course, now that the state sees that the season is going well, it is bringing out new obligations such as money that needs to be returned. Turnover may be good but we need to take expenses into account."
He added that with August being fully-booked it will be difficult for anyone to find accommodation at the last minute - only if there are cancellations.