Influx of Easter visitors begins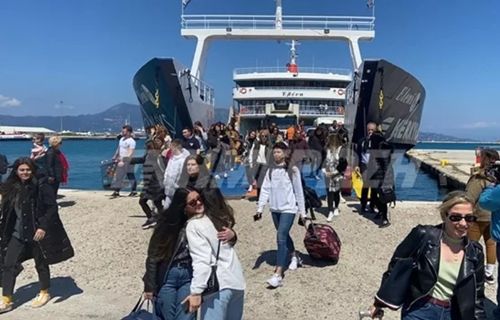 CORFU. The Municipality, Port Authority and Traffic Police are working together to ensure that everything goes smoothly over the Easter weekend.
The arrival of the big wave of visitors coming to experience the Corfu Easter has begun at the port.
The particularly high demand compared to other years on the ferries suggests that we are heading for a record high this Easter and authorities are in readiness to manage the large crowds of visitors who will flood the town and villages.
The biggest challenge every year at this time is managing traffic and the enormous need for parking spaces. The municipality, port authorities, and traffic police are all working together so that the peak three-day period can run as smoothly as possible.
To facilitate parking, temporary parking spaces have been designated in cooperation with Central Corfu Municipality and the Corfu Port Authority.
Designated parking spaces
Those coming from
South Corfu
via
Eth. Lefkimmi Rd.
can park in the area around
Corfu National Sports Centre and Garitsa Cemetery
. It is estimated that around 350 vehicles can park in these areas.
From here, the historic centre can be approached either on foot or by using the free buses that will operate on the route EAK-Garitsa-Douglas Column.
Those entering the town from Central Corfu (via Eth. Pelekas Rd.) and from North Corfu (via Eth. Paleokastritsa Rd.) will have to go to Corfu Port, where a very large parking area has been secured inside the port where it is estimated that over 2,000 vehicles can park.
Entry to the parking area will initially be from the roundabout and then from the central port entrance. Visitors can get to the historic centre on foot or by using the free buses that will operate on the route PORT-SPILIA.