Dinosaur exhibition now opening on 24 February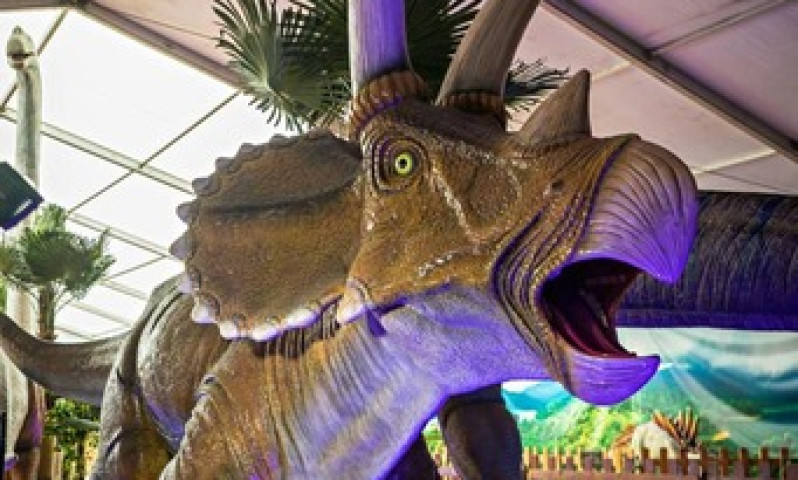 dinosaurs
15 Φεβρουαρίου 2023
/
10:11
CORFU. The 40 robotic dinosaurs will take visitors back to the time when these creatures roamed the earth!
Due to the recent adverse weather conditions and the seamens' strike, the dinosaur exhibition will now open in Corfu on 24 February and run until 19 March.
With the large robotic models, colours, sounds and atmosphere visitors will have the opportunity to travel back to the time when these creatures ruled the earth. The exhibition is not just a simple guided tour but will recreate the natural habitat with the large dinosaurs, plant life and fossils.
The impressive Tyrannosaurus Rex, which was the 'king' of the dinosaurs and one of the most powerful meat-eaters, is represented by a robot model 14m by 6m.
Visitors will also be able to see the Diplodocus with its long tail that swept everything aside as it passed, the Brachiosaurus with its long neck and other models of prehistoric creatures of all sizes will fascinate both young and old!
All the exhibits are robotic models which, with their movement, colours, texture and sounds in the specially designed environment will give visitors the feeling that they are back in the time when these creatures roamed the earth.
The exhibition has been designed with family enjoyment and school trips in mind but will also be of interest to individual visitors of all ages. All those who come will have the chance to see these huge creatures that they may only have seen in books, films, fairy tales, cartoons and comics.
At the end of their visit and first-hand experience members of the public will find that they have learnt a lot about the history of these prehistoric creatures.
Duration of exhibition
Friday 24 February to Sunday 19 March
Opening times
Monday to Friday: 15:00-20:00
Weekends and public holidays: 11:00-20:00
The last admission will be 50 minutes before closing time.
Ticket prices
Children aged 12 and under: €8
Adults: €10
Family (2 adults & 2 children): €30
Ticket sales
- At the door
- Online at
www.dinosaurslive.net
Information - 6940 502756