Central Corfu Municipality and Ionian University sign Memorandum of Cooperation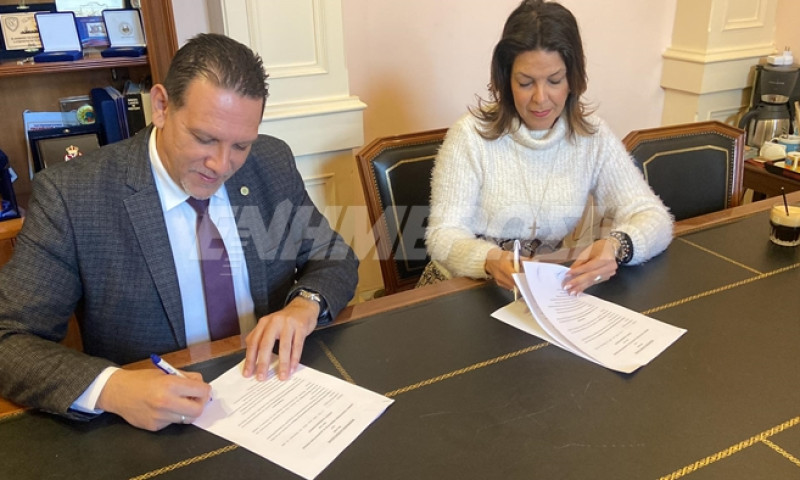 Ionian University
30 Ιανουαρίου 2023
/
16:09
CORFU. A Memorandum of Cooperation was signed to help achieve common strategic goals in a broad range of issues.
The Memorandum of Cooperation signed by Central Corfu Municipality and the Ionian University this morning comes as confirmation of the excellent relationship between the two bodies and will lead to the achievement of common strategic goals in a broad range of issues.

Included in the common strategic goals are social welfare and integration, physical and mental health, education, vocational guidance and adult education, employment and entrepreneurship in high priority industries, tourism and sustainable development and culture, community economy and entrepreneurship, green energy transition, digital transition and urban regeneration.

Separate agreements will be signed for each of the above so that they can be implemented. Mayor Meropi Ydraiou said that positive and measurable results can already be seen from the cooperation between the Municipality and the university to date and gave the example of Civil Protection and the Memorandum of Cooperation between the university and the Fire Department.

In answer to a question from Enimerosi, Ms. Ydraiou said, "A large number of fire hydrants have already been installed in the Old Town and old ones repaired. A register is also being created to list if there are people with special needs living in multi-storey buildings, mainly in the Old Town, which floor they are on and in which apartment so that in an emergency they can be rescued immediately.

With regard to digital transition, the responsible ministry has begun a major programme via the ESPA Recovery Fund for digital transition in the municipalities. We are also beginning to deal with the issue of sustainability and local limitations as well as sustainability of our tourist product as Mr. Floros said."

She said that it had always been the present local authority's priority for the university to become a social partner of the municipality in order to take advantage of the local university departments and their specialist knowledge for the preparation of studies and positive results in a broad range of municipal operations which will by extension benefit the community.

The University Dean Mr. Floros thanked the Mayor for the ongoing direct communication between the university and the municipality and the promotion of their cooperation.

He said that their collaboration will focus on the main sectors of sustainability and digital transition. He added that the university should contribute to the local community by proposing solutions and recommendations that will help develop the local community and in turn improve the lives of its citizens.