Corfu Hospital employees work stoppage and protest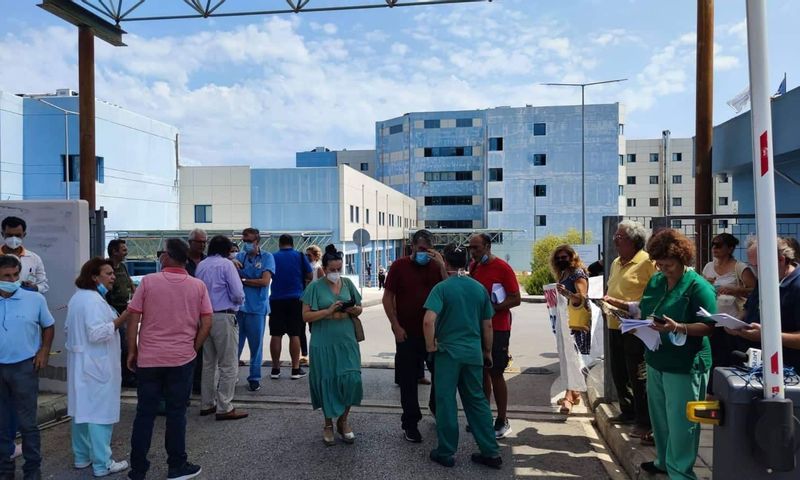 Corfu Hospital
03 Αυγούστου 2022
/
18:56
CORFU. Hospital employees held a work stoppage and protested, demanding recruitment of permanent staff to address the hospital's understaffing.
Corfu Hospital and Psychiatric Department employees held a two-hour work stoppage this morning (11:00-13:00) outside the hospital and protested, demanding recruitment of permanent staff to address the understaffing.
The recent incident of the doctor from Corfu Hospital Cardiology Department who fainted following a 24-hour shift and transporting a patient to Ioannina, highlighted the hospital's serious understaffing problem. According to the Hospital Employees' Union, there is serious lack of nursing staff in the hospital and, especially, in the Pathology and Psychiatric Departments.
"We demand the recruitment of permanent staff in all departments and the abolition of flexible forms of work (security guards, etc.), that the auxiliary and OAED staff be made permanent and that all suspended health personnel return immediately, since everything is functioning normally and everyone is getting sick. Enough with the health personnel's punishment - some of them are left without a job and a salary and the rest are working long working hours without breaks and days off," said the Employees' Union President Dina Ioannou.
78 permanent staff in 149 positions
According to the Hospital Doctors' Union, in Corfu Hospital there are 78 permanent staff in 149 positions, while 6 of them are either going to be retired or their contracts have been extended. They demand 13 new positions at hospital and the unsuccessful advertising of positions to be rerun. In particular, they demand the recruitment of staff in the Emergency, Pathology, Cardiology, Nephrology, Neurology and Psychiatric Departments.
The Psychiatric Department
According to the Psychiatric Department Employees' Union, there are currently 3 permanent psychiatrists, 1 auxiliary psychiatrist and 1 child psychiatrist left in the whole department. Since 2019 and during the pandemic, more than 8,000 citizens have been examined and more than 1,000 people have been hospitalised.
"The lack of necessary specialist doctors, such as occupational therapists who are only a few or social workers who contrary to the law are working in the rest of the hospital, is depriving patients with mental health problems of valuable services, while with the existing understaffing the remaining mental health facilities are being turned into small asylums. At the same time, necessary services for the community either never began operating, such as the Child Psychiatric Unit, or are understaffed, such as the Mental Health Centre and the 'Diaplus' rehabilitation unit. If the current situation continues, it is likely that more structures and services will be closed in the near future due to retirements, lack of recruitments and suspensions", stated the Psychiatric Department Employees' Union.
Support
Along with the hospital doctors and employees, also present at the protest were the Corfu SYRIZA MP Alekos Avlonitis, the Corfu Labour Centre, the Corfu MeRa 25 party and representatives of the Panhellenic Federation of Public Hospital Employees and the Civil Servants Confederation (ADEDY), showing their support.