'Kerkyraion Politeia' donates trainers to Corfu Hospital nurses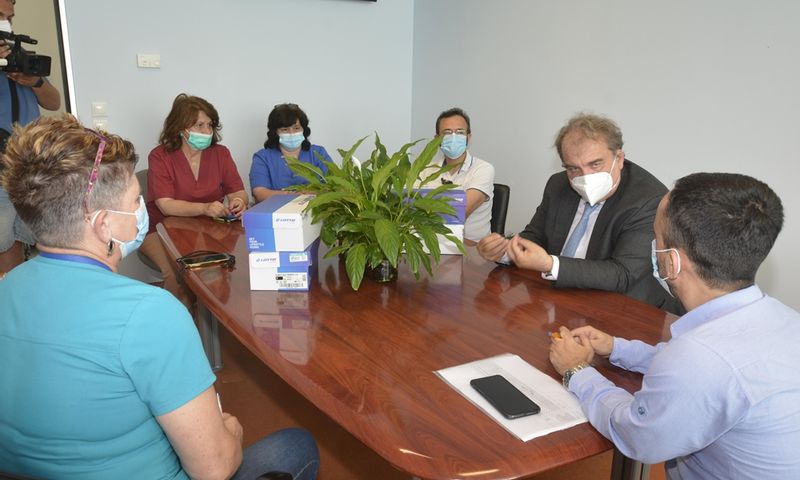 CORFU. On the occasion of International Nurses Day.
On the occasion of the World Nurses Day and following a request by the Corfu Hospital Nursing Service, the 'Kerkyraion Politeia' Association and its President Spyros Kladas donated trainers to all employees of the hospital's Nursing Service.

The representative of sportswear companies and former football player Elias Armodoros helped in this effort.

Present at the handing over of the trainers on Friday 20 May were the Corfu Hospital Director Leonidas Roubatis, as well as members of the hospital's Nursing Service.

The Director thanked for this donation and talked about the effort made by all the nursing staff in order to provide high quality services to society and all citizens.

Elias Armodoros said that nurses play a crucial and very important role in the public health sector and, therefore, he gladly responded to the request of 'Kerkyraion Politeia' and its President Spyros Kladas.

"This donation is a recognition of the work of both the hospital's nursing staff and all the employees, who, despite the sometimes difficult conditions, make every effort to provide high-quality health services.

It goes without saying that we will always help the hospital and its Director Mr. Roubatis, wherever he thinks that we will be useful.

I am confident that with the joint effort of all bodies and people of the island, and in collaboration with the hospital administration, it is possible to address the issues that currently concern the hospital and to further improve both the working conditions of the staff and the services provided," said Spyros Kladas, after thanking Mr. Armodoros.