Opening of Thanasis Lalas' exhibition at The Attic Gallery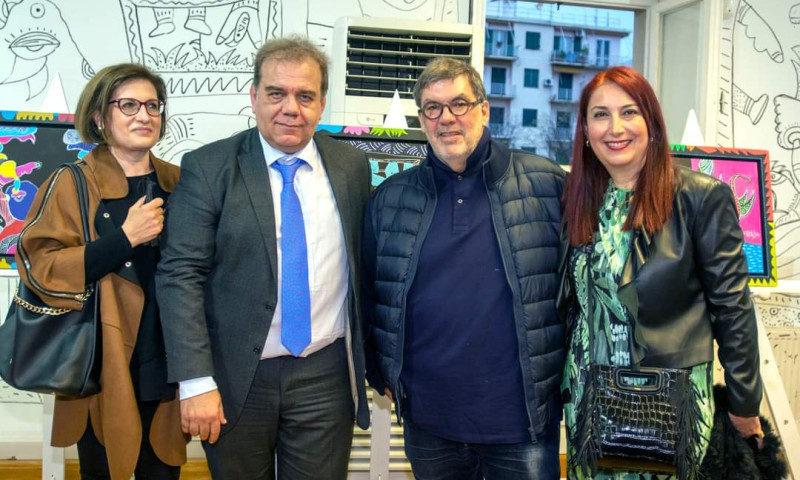 CORFU. 'Kerkyraion Politeia' Association President Spyros Kladas: "The exhibition of the well-known artist and journalist Thanasis Lalas in Corfu marks our effort to make again our island the centre of cultural, sporting and social developments."
The opening of the painting exhibition of the well-known artist and journalist Thanasis Lalas, which is being co-organised by the 'Kerkyraion Politeia' Association, took place on Saturday 16 April 2022.
The 'Kerkyraion Politeia' Association President Spyros Kladas referred to the importance of organising this exhibition in Corfu, since it is an exhibition that has already been presented abroad and in America with great success.
As he stressed, this is the first of a series of cultural, sporting and social events that he and his partners have planned in order for Corfu to be a place of interest all year round and to be the centre of developments in these fields.
Thanasis Lalas captivated the audience with the simplicity of his speech and referred to the value of art, the need for people to continue to dream and ultimately live and escape, as when "discussing in a room of the mind, on the phenomenon of the open sea" which is the title of the exhibition.
The opening of the exhibition was held by a representative of the Minister of Culture Lina Mendoni, who accompanied the Prime Minister during his visit to Chania.
The Catholic Archbishop Altouvas, the Central Corfu Mayor Meropi Ydraiou, the Deputy Governor Melita Andrioti, the Municipal Council President Dimitris Metallinos, the Corfu Lawyers Association Yiannis Kontos, Corfu Hoteliers Association President Babis Voulgaris and the Art Gallery President Spyros Moraitis were also present at the opening.
The exhibition is taking place in the Attic Gallery and will last until 30 April 2022.