Corfu Museum of Maritime History is starting to take shape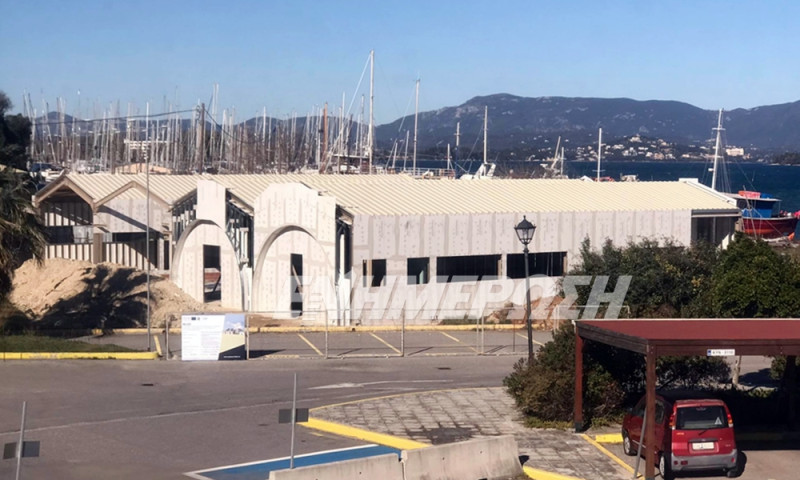 OLKE
09 Φεβρουαρίου 2022
/
20:48
CORFU. Its architecture is reminiscent of the Venetian Shipyards at Gouvia, Corfu.
The Museum of Maritime History is expected to play an important role in the life of the entire Corfu Port as an important tourist attraction for the island. Work is already underway on the building next to the Corfu Port Authority (OLKE) one, which will house the Corfu Centre of Maritime Tradition, with the greatest achievement of its creation being the interaction between the port and the town.
This is an initiative, which started by the previous OLKE administration (Spyros Stefanidis) and is continued by the current one.
In particular, the Corfu Port Authority is participating as a partner in the MUSE project, which is co-funded by the Interreg V/A Greece-Italy (EL-IT) 2014-2020 Programme.
The total budget of the project for the development and utilisation of the coastal cultural heritage museums as natural and cultural heritage sites is €463,648 (including VAT).
"During my term of office, we managed to obtain two exhibits, one of which is the destroyer 'Thiella'. We had contacted other museums to give us exhibits they did not need,"
Mr. Stefanidis
told
Enimerosi
.
The work to be done
The work to be dones, on a plot of land owned by OLKE within the wider area of the Corfu New Port, includes construction work, supply and installation of mechanical equipment and landscaping of the outdoor area. The plot allocated for the new building is 2,160 sq.m.
According to the architectural study, it will consist of three buildings. The buildings will be build in such a way that they can be seen from all sides and the two main sides face North (the sea) and South (Corfu Town).
Venetian shipyards
Its architecture, through a different and modern view of construction, materials and morphological elements, is reminiscent of the Venetian Shipyards located at Gouvia, Corfu – something particularly familiar to Corfiots and the visitors of the island.
Venetian Shipyards at Gouvia
"Once the building is completed, there will be discussions and agreements with similar museums around Greece to enrich the exhibits, while I will donate some items from my personal collection,"
ND MP Stefanos Gikas
told
Enimerosi
and added that the museum is particularly important for Corfu, since it is an island with maritime tradition.