What's on (Exhibitions-Theatre-Events)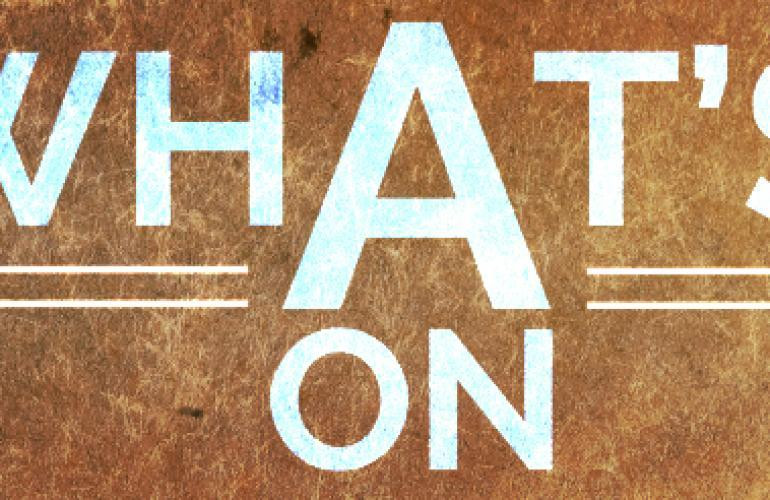 CORFU. Find out what΄s on in Corfu this weekend.
Saturday 30th & Sunday 1st
Lights, cameras, action! Animation Festival ICONA 2019


The Ionian Contemporary Animation Festival (ICONA 2019) is being organised by the Ionian University Department of Audiovisual Arts for the first time as part of the CIAK project ("Common Initiatives to AcKnowledge and valorize tourism potential of the programme area through cinema").
It will take place in the events hall of the Ionian Academy (Capodistriou 1). A total of 968 films were submitted to the Festival of which 135 were chosen to take part in the competition (72 short films and 63 student films) from 48 countries.
The films will be screened over the 3 days of the Festival and judged by a special panel (Konstantinos Tiligadis - Ionian University, Vassilis Karamitsanis - Animasyros and Panayiotis Kyriakoulakos - Aegean University). Awards will be presented to the 1st films in each category and there will also be a Public Award. Admission to the Festival is free on all days.
29 November - 1 December
Ionian University Department of Audiovisual Arts
Events Hall
Ionian Academy
Capodistrias 1
Ceramics exhibition: 'Painting on clay' by Agalida Manessi at Municipal Art Gallery
Duration: 21/11 - 10/1/20
Corfu Municipal Art Gallery
Opening Times: Tuesday - Sunday 10:00 - 16:00 (Closed Mondays and Public Holidays)
Information: 26610 48690 /
[email protected]
"References to neo-expressionism" - From the Voyiatzoglou Art Gallery collection
Works by ten prominent Greek painters, with reference to the Neo-Expressionist movement.

Municipal Art Gallery
Old Palace Colonnade – Periodic Exhibitions Section
Duration: until 15 January 2020
Opening hours: Tuesday to Sunday, 10:00 - 16:00 (Mondays & Holidays closed)
Contact: 26610 48690 / [email protected]


'CERN' Exhibition in the Municipal Theatre Foyer
The ΄CERN΄ exhibition will be held in the foyer of Corfu Municipal Theatre presenting CERN experiments and research into Elementary Particle Physics.
On display will be experiments that have taken place at CERN and research into Elementary Particle Physics with photos, posters and short videos. There will be guided tours until the exhibition ends.
Retrospective art exhibition - "Angelos Giallinas (1857 - 1939) - With Corfiot light and colour"
The exhibition opens at the Municipal Art Gallery on Friday 26 July at 20:00.
10:00 - 16:00 Tuesday to Sunday until 31 December 2019.
Exhibition of Maps: "Corfu by the Great Cartographers"
Corfu Municipal Art Gallery is exhibiting some of the artistically and scientifically important maps of Corfu from its collection.
From Thursday 25 April the works of these cartographers will be on exhibition in chronological order, covering four centuries, allowing us to see the development of cartography from the 17th century Baroque period, when aesthetics dominated, to the early 19th century, when there was an almost complete absence of any decorative items.

The exhibition will display 15 engravings in the central room of the Gallery's Permanent Exhibition.

Opening hours: Tuesday - Sunday 10:00 - 16:00 (Closed on Mondays and public holidays)
Weekend at Kantoni Estate
Spend unique Weekends at Kantoni Estate!
Reservations: 6988 799070 / 26630 23157
Saturday 30th
Georgia Dagaki live at EPTA Arts Centre


Presenting numbers from her personal repertoire and other favourite songs in a performance directed straight to the heart!
22:00
Pre-sales: 10€
On the door: 12€
Bookings: 6974 064575
EPTA Arts Centre
Viros
Recycling meeting in Dafni


18:00
Old Dafni School
The meeting is being organised by the Dafni-Gavrades Cultural Society and the community president Sarantis-Dimitris Tsilibaris.
The Mayor of North Corfu Giorgos Mahimaris will attend the meeting and there will be a presentation from the Municipal Councillor responsible for recycling Spyridoula Kokkali.
Corfu Alternative Workshop: Free - exchange bazaar


10:00 - 12:00
The bazaar will include clothes, toys & games, cd/dvds, small furniture, small appliances, household goods and books.
Velissariou St. next to the Synagogue - Come and pick up whatever you need or like free!
Corfu Philharmonic Society concert with Gerasimos Tsagarakis


20:00
Municipal Theatre
The distinguished percussionist Gerasimos Tsagarakis will be performing as soloist and Spyros Prosoparis will be conducting.
Friday & Saturday evenings at Harry's Taverna garden
Harry's Taverna in Kontokali has live music evenings every Friday and Saturday
'Odiki Voithia' (Road Assistance) band.
Vangelis Moraitis: bouzouki
Alexis Kremonas: guitar
Yiorgos Pandis: accordion
Reservations: 6981686618
Live music evenings at Abakas traditional meze-bar
Abakas meze bar is organizing live music evenings every Saturday.
Artistic, folk and traditional songs.
Velissariou 30
Saturdays at Barba Thomas Taverna

Barba-Thomas Taverna welcomes you every Saturday to spend an unforgettable night with its new musical programme.

Singers: Phanis Kazianis, Akis Gekos, Alexandra Koulouri, Bouzouki: Christos Mamalos, Drums: Tasos Pagratis, Piano and musical credits: Spiros Kontis.


Friday & Saturday evenings with live music at 'San Paramithi' meze restaurant
Live music, quality food and fine wine!

Sunday 1st
Beatles musical evening with 'Ekkinisi'


'Ekkinisi' party is organising an evening with Beatles music.
The first part of a double event dedicated to the Beatles.
Come along for a beer, a chat and enjoy the popular music and lyrics!
21:30
'Ekkinisi' premises in Garitsa Alkinou
Children decorating the Christmas tree in Perithia!
Young and old are invited to experience the magic of Christmas by decorating the Christmas tree, setting up the manger in the centre of Perithia (Koukla), making doughnuts, writing letters to Santa Claus and enjoying a buffet and drinks!

All this plus supporting 'Make A Wish'!
11:00