Central Corfu Municipality join URBACT IV European Programme for circular economy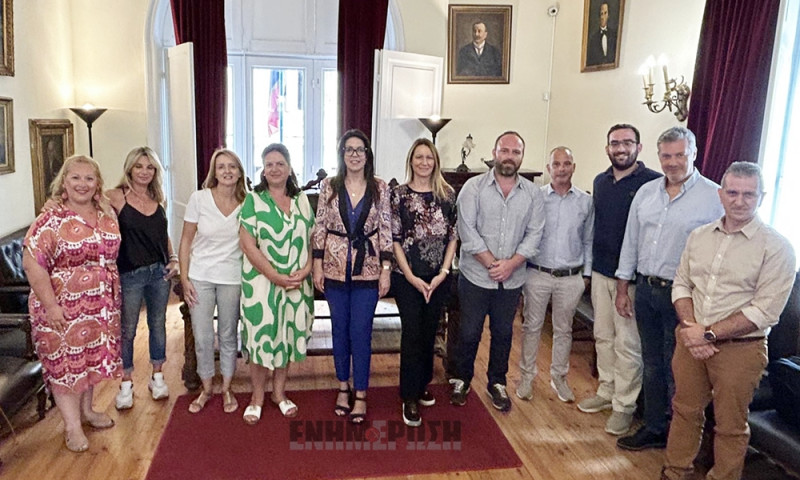 Central Corfu Municipality
04 Σεπτεμβρίου 2023
/
12:49
CORFU. Meeting of the Capodistrian Development Corporation S.A. project team with the network Lead Expert, Eleni Feleki.
A meeting for the URBACT Circular Economy Programme took place today at San Giacomo Old Town Hall, with Central Corfu Mayor, Meropi Ydraiou, Deputy Mayors, local authorities, network Lead Expert, Eleni Feleki and the project team of Capodistrian Development Corporation S.A., which will implement the European Programme.
The purpose of the meeting was to present the programme's structure, objectives, and the next steps required for its effective implementation.
On May 31, the Monitoring Committee of the URBACT IV Programme approved 30 City Networks consisting of 252 individual partners from 28 European countries.
From June 2023 to December 2025, partners will exchange ideas and experiences, learn from each other, develop their skills and create Integrated Action Plans to address their local challenges.
The Development Corporation, Capodistrian Development Corporation S.A. participates in two city networks, one led by the city of Munich with the title "Let's Go Circular," and the other led by the city of Verona with the title "Urban Re-Gen," both of which were approved for funding by the Monitoring Committee of the Programme.
Through participation in these two networks, significant benefits will be derived both for a healthy circular transition through the development of comprehensive circular economy action plans and for the revitalisation of public spaces through integrated urban sports hubs for the participation of young citizens.
The goals of the programme include:
- Utilizing cross-border networks to improve the administrative capacity of European cities.
- The improvement of the skills of the beneficiaries in the planning and implementation of sustainable urban development policies, practices and innovative solutions through an integrated participatory approach focusing on space,
- Ensuring access to knowledge and URBACT practices for policy and urban development entities for further utilisation in local, regional, national and European Urban Policies, through the European Urban Initiative (EUI) and the Urban Agenda for the European Union.
The expected outcome of participation in this programme is the development of an Integrated Action Plan (IAP) that will address the central theme of the city network in which the Development Corporation participates.
The Integrated Action Plan provides cities with a specific and consistent response to their policy challenge. It follows a logic of intervention that aims to design and implement evidence-based actions. The Integrated Action Plan will connect the actions of cities with the funds of the Cohesion Policy to support long-term implementation.