Organised beaches more expensive this year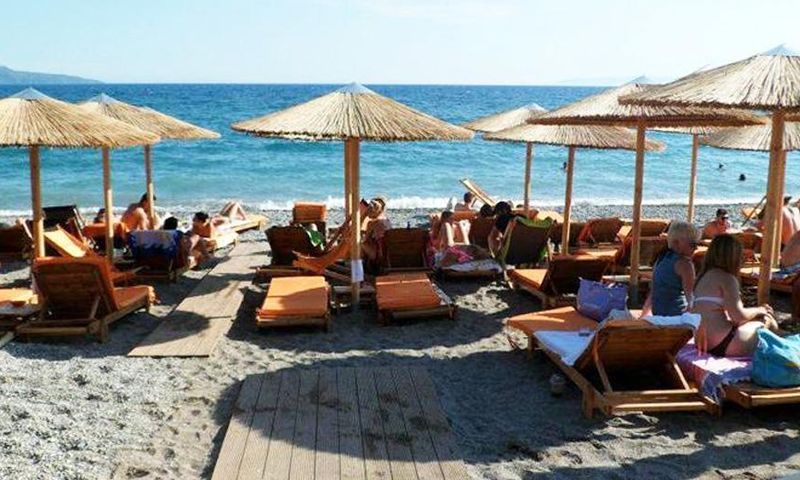 CORFU. Higher costs have led to price increases. Prices for sunbeds and an umbrella range from €8-60, depending on the area.
Organised beaches in Corfu are even more expensive this year, and in several cases the rental cost of a set of sunbeds and umbrellas is prohibitive. When considering the expenses for petrol, as well as snacks with beer or coffee, the cost has become excessive.
There are price fluctuations from area to area, with businesses having increased their price lists due to the general high costs that have affected everything, as well as the new increased annual rental fee that they are required to pay to the municipalities for the simple use of the beach or coastline for placing umbrellas.
Tenders for the rental of common areas (beach-coastline) as well as direct leases for the placement of umbrellas and sunbeds in adjacent businesses to the municipalities' beaches in Corfu are in progress.
Deputy Mayor of Finance, George Pantelios, told Enimerosi that the process will be completed in the next few days in the Central Corfu Municipality, and stated that the prices determined will be valid for the years 2023, 2024 and 2025.
"The objective values have increased, and that is the reason why we have adapted," he said. "The prices are determined in consultation with the Public Real Estate Service. The decision of the Economic Committee, which determines the rental values, is controlled and approved by the Real Estate Service." He pointed out that the cost within the geographical boundaries of the Central Corfu Municipality for the placement of umbrellas is now set at an average of €35-40 per square metre.
Forking out a lot of money
In the majority of cases, bathers will need to dig deep into their pockets to rent a set of sunbeds and umbrellas, as there are very few exceptions where prices have remained the same as last year or are still offered for free, provided that an order is made.
Taking a plunge into the azure waters of Paleokastritsa comes with its own cost for those who choose to use the services. On the main beach, the sets are available for prices ranging from 15 to 20 Euros, without including any coffee or water in the price.
In nearby beaches of the same area, the sets are priced differently. The closer to the sea, the more expensive they become, with costs skyrocketing from 20 to 40 Euros, and at this price, a large bottle of water is provided. Furthermore, coffees cost between 2 and 4 Euros, fresh juices range from 5 to 6 Euros, beers range from 4 to 8 Euros and soft drinks range from 3 to 4 Euros.
In Barbati, which is one of the most popular beaches in Corfu, services also have their own tariff, and there are cases where, starting from July 1st, the pricing policy will be on the rise. At the moment, renting a beachfront set costs 20 Euros, while further back, the cost ranges from 10 to 15 Euros.
Coffee costs 4 Euros, soft drinks are priced at 3.5 Euros, beers range from 4 to 6 Euro and ice creams range from 3 to 5 Euros. A little further north, in Kaminaki, the set is offered at 12 Euros.
Kontoyialo - Glyfada - Ai Gordis
Prices for renting umbrellas and sunbeds have been on the rise at Kontoyialos Beach, with costs ranging from 9 to 12 Euros, depending on the establishment, plus an additional charge for any orders. For example, coffee costs 3 to 4 Euros, beers range from 4 to 5 Euros and ice creams range from 2.5 to 3.5 Euros.
In Glyfada, however, the prices are significantly higher. One can find a set for 15 Euros, but the cost becomes particularly steep at a well-known beach bar, where in the first and second rows, two sunbeds with an umbrella cost 60 Euros, and 40 Euros in the back rows. Coffee costs 4.5 to 5 Euros, beers range from 6.5 to 9 Euros and soft drinks are priced at 4.5 Euros.
In Ai Gordis, businesses, apart from a few exceptions, are changing their tactics by now charging for the rental of sets that they previously offered for free, with the obligation, however, to place an order. Coffee is priced from 2.80 to 4.50 Euros, beers range from 3.5 to 5.5 Euros, fresh juices range from 4 to 6 Euros and soft drinks range from 3.30 to 4.5 Euros.
South Corfu beaches
Renting umbrellas and sunbeds on organised beaches in South Corfu is expected to cost an additional €2 this year.
The tender in South Corfu Municipality for the transfer of the right of simple use of the beach for the placement of umbrellas, beach facilities, and mobile canteens to third parties for a period of three years, will take place on Friday, June 30th. However, according to businesses, due to the increased price they will be required to pay for the lease, the rental cost for the sets is expected to be around 8 to 10 Euros two Euros more expensive than last year.