Agios Markos Primary School pupils collect thousands of plastic bottle tops for a good cause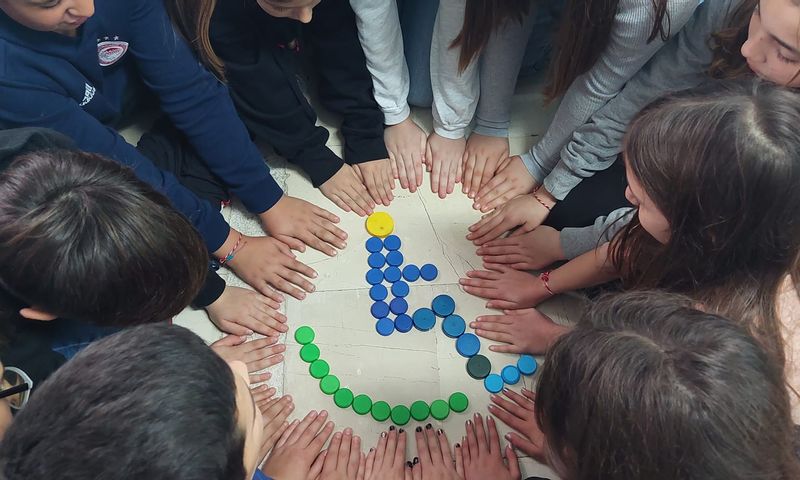 CORFU. The pupils handed over ten large sacks of plastic bottle tops and the money earned from recycling them will go towards the purchase of wheelchairs.
The pupils of Agios Markos Primary School are once again setting a good example. Thanks to the initiative of 12 pupils from the 5th grade, the entire school worked together for a good cause, aiming to contribute to the nationwide effort to support people with mobility issues.
Thousands of plastic bottle tops from water bottles, soft drinks, and detergents that would have ended up in the landfill were collected by the 86 pupils at the school. After being recycled, the money gained from this initiative will go towards the purchase of wheelchairs for people with mobility difficulties.
How it began
This is the first time the school has done this, but the positive impact of their actions on the lives of other people has paved the way for its continuation in the coming years. The opportunity arose when the students of the 5th grade, together with their teacher Athena Bandeli, discussed volunteerism as part of the Skills Workshop class.
After a brief research by the pupils on the internet about the growing nationwide campaign to collect plastic bottle tops, they decided to take part and mobilised the entire school. With the motto "Together we can," they quickly managed to gather thousands of plastic tops that were deposited daily in a box placed at the school entrance.
Photo: Athena Bandeli
"The initiative arose spontaneously, led by the pupils in the 5th grade," Ms. Bandeli told Enimerosi. "They informed all the classes in the school, and shortly before Easter, the collection of bottle tops began. The children were enthusiastic and organised themselves to collect tops not only from the school, but also from the shops in Ipsos. At the same time, they realised how important recycling is for the environment."
Letter
However, the question arose as to where they should deliver the collected items for their efforts bear fruit. So, they sent a letter to the Deputy Mayor of Social Policy and member of the Regional Special Needs Association, Andreas Skoupouras, inviting him to their school to provide further information.
Photo: Athena Bandeli
The pupilts' invitation received a positive response, and the Deputy Mayor, came to the school and delivered a unique life lesson about diversity and the value of volunteering and recycling.
Photos: Athena Bandeli
The pupils became wiser and they delivered the ten large bags filled with thousands of bottle tops, to go towards the purchase of wheelchairs.