Single May Day demonstration in Corfu this year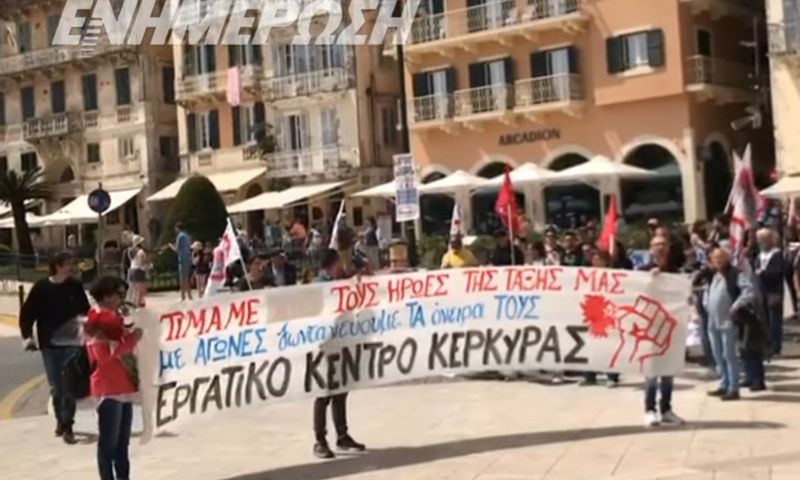 CORFU. The workers΄ unions and the pensioners will gather at 11:00 at the Workers΄ Centre. Commemoration and honour events at the weekend. No ferry services in Corfu on Monday.
The Corfu labour unions will commemorate May Day on Monday 1 May with only one demonstration unlike other years, but also with commemorative events, marking 137 years since the 1886 Chicago workers' uprising. The protest gathering will take place at 11:00 at the Corfu Workers' Centre, where workers, pensioners, teachers and citizens will meet to honour the struggles and achievements of the labour movement.

The Corfu Workers' Centre, the Corfu Union of Private Employees, the Corfu ADEDY branch, the teachers' unions SEPE and ELME, the pensioners, the Corfu SYRIZA party, the Psychiatric Department Employees' Union and the 'Dimokratiki Agonistiki Synergasia' party are calling everyone to take part in the protest gathering.


March

The protest gathering will then be followed by a march in the town.

Amongst the demands are the following:

- Increases in wages and pensions
- Payment of the whole Easter and Christmas bonus
- Stable jobs with full wage and insurance rights
- Funding of the public health system with recruitment of permanent staff in all sectors
- No more primary residence auctions
- No power and water supply cuts


No ferry services

The Board of Corfu Seamen's Union has decided to also take part in this panhellenic protest. Thus, there will be no ferry sevices on Monday 1 May from 00:01 to 24:00.


Events of remembrance and honour

On Sunday 30 April at 19:00 there will be a commemoration event in Kouromades for Kostas Chytiris, the Corfiot teacher who was executed with the 200 of Kaisariani on May Day 1944. Afterwards there will be a musical event.