Hot air balloon in Lower Square today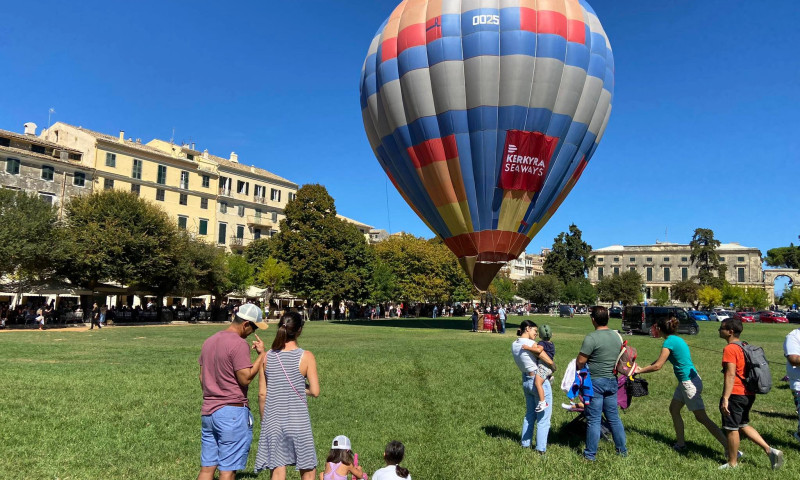 hot air balloon
19 Σεπτεμβρίου 2022
/
13:46
CORFU. The hot air balloon has come from Cyprus and will remain in Corfu for two days.
Young and old have been enjoying the sight of a multi-coloured hot air balloon in Lower Square next to the Liston today.
The spectacular ballon has come from Cyprus and will remain in the same spot today and tomorrow 12:00-14:00 and 18:00-21:00.
The hot air balloon belongs to a private company and has been brought to Corfu for two days on the initiative of local businesses who have also covered the expenses.
According to the organisers, the idea came up in 2020 when there was a similar event at Plastiras Lake, which was repeated the following year, where a hot air balloon lifted the biggest Greek flag in the world into the sky in a "Celebration of the Flag" as part of the celebrations held by Plastiras Lake Municipality for the anniversary of the 1821 Greek Revolution.
Controlled flight
The multi-coloured balloon is in the air but tied to the ground in a 'controlled flight', with a flame being lit every few minutes to heat the air and keep the balloon filled.
Both young and old love the large balloon with its colours and the gentle way it remains in the air. The public can only watch, however, and cannot go for a flight as this requires special procedures for safety reasons.
Company personnel is on hand to provide information about the functioning of the balloon.
The organisers are hoping that this can become a regular event and that a Hot Air Balloon Festival can be established.
This is not the first time there has been a hot air balloon on the island as there was also one for the EU Summit Meeting held on the island in 1994.