Authors XI Cricket Club plays series of matches in Corfu Literary Festival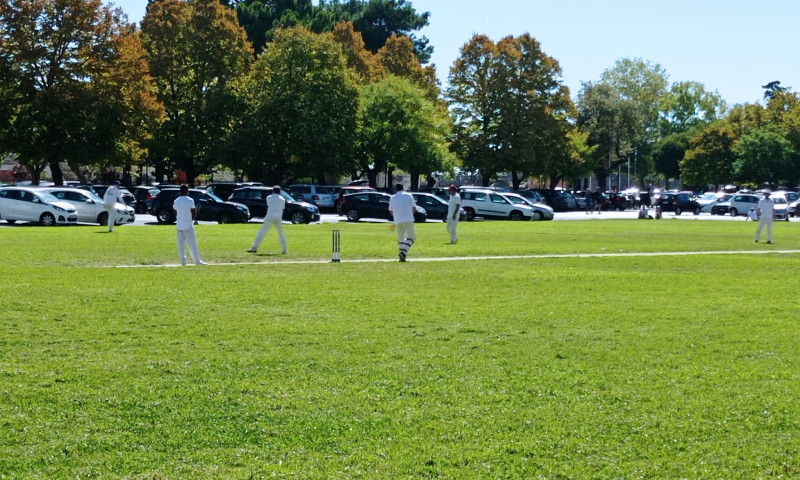 CORFU. Matches were played in Gouvia and Spianada Square.
As part of the Corfu Literary Festival 2022 there were four days of cricket matches with guest teams The Authors XI and Osians from Mumbai. The matches took place in Gouvia and Spianada Square (Liston) where the cricket ground was first established 199 years ago.
Hellenic Cricket Federation (ELOK) press release:
A series of friendly cricket matches were played which included two international teams in the twelve that took part in Corfu International Cricket Festival 2022.
The Authors XI Cricket Club (https://www.authorscc.co.uk/) visits Corfu every year as part of the Literary Festival and the other international team was Osians CC from Mumbai, who enjoyed the matches nd confirmed that they will return to Corfu in 2023 for the 200th anniversary of the first cricket match in Corfu, which was played on 23 April 1823.
The first game was played in Gouvia on Thursday 22nd - a 25-over match between the Authors and Osians - with the former getting a total of 175 runs to beat the Osians, who had 143 runs. On Saturday 24th the two teams played with local Greek teams in a round again in Gouvia.
On Sunday 25th the historic main square hosted a celebration cricket main square.
A representative from the British Embassy in Athens attended along with representatives from the regional and local authorities, authors and BBC journalists.
The event was co-organised with the Ionian Islands Regional Administration and warm thanks also go to Corfu Beer for its kind support.
We would like to thank Annabelle Louvros for her excellent cooperation and contribution to sport and cultural tourism, the President of the Spianada Association of Friends of Corfu Cricket Spyros Tsagaropoulos for his support and voluntary assistance and the local cricket federation.
Photos: Hellenic Cricket Federation (ELOK)