Spyridoula Kokkali: We need to pave the way for future generations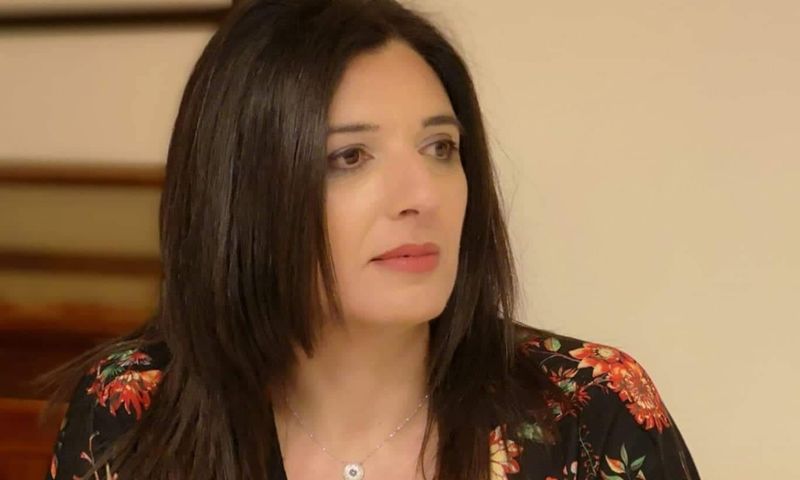 North Corfu Deputy Mayor Spyridoula Kokkali speaks to Enimerosi about the recycling work going on in North Corfu as well as her own projects with young people to encourage healthy eating and critical thinking.
Spyridoula Kokkali, North Corfu Deputy Mayor for Circular Economy, Environment and Public Relations, spoke to Enimerosi about the recycling work going on in North Corfu as well as her own projects with young people to encourage healthy eating and critical thinking.
How many Green Spots are there in North Corfu and how many are planned in the near future? How much difference have they made and how significant a contribution are they making? A lot of locals, including many foreign residents, are involved in this work – what would you like to say about their contribution?
There are 130 green spots of different kinds in North Corfu and they all promote the sorting-at-source waste management model. All 28 schools have one, 21 of our hotels (with a total of 9,500 beds) and 81 are located on the road network. We are planning to set up another 30 in the next couple of months and a lot more in the near future. They have made a great difference to Municipality waste management. We have managed to increase our recycling percentage from 0% in 2019 to 11% now with only 1% residue which is a great achievement since the blue bin model produces more than 55% residue. Green spots make a great contribution too.
a) Environmental contribution: Only 1% of the total amount of recyclables cannot be recycled and therefore thrown away. This greatly reduces the amount of waste that ends up in landfills.
b) Financial contribution: For every ton of recyclables, the Municipality saves €300, which is the amount of money spent on green bin collection, waste transportation to Palairo, Palairo gate fee, etc.
c) Social contribution: In Acharavi, Kassiopi and Arillas green spots, we encourage reusing. As a result, almost 150 families in need are provided with free clothing, shoes, utensils, pieces of furniture etc from the reusing project applied. Since November 2021, we also support the Corfu Prison facility in Corfu Town with clothes and shoes from the green spots.
d) Educational contribution: Green spots have helped in the recycling education of the local residents and change of mindset. Every time a green spot is set up, all residents are informed about their proper use with door-to-door leaflet distribution. Most importantly, we encourage and welcome school visits to the green spots in Acharavi and Kassiopi.
Volunteers in general have been replaced by municipality workers in most green spots in North Corfu but there are still quite a few who work hard. Both Greek and foreign volunteers are respected, appreciated and applauded for their contribution. Their work and commitment show their true love for Corfu. I would like to thank them and congratulate them.



Loutses Green Spot
What made you decide to get into politics and how did you get involved in the circular economy and environmental protection?
Getting into politics was not an easy decision for me to take. However, it was because of Giorgos Machimaris' candidacy for Mayor – a politician I have always admired for his vision and hard work for more than 30 years - that made me decide to get involved. Getting involved in the circular economy and the environment was the very next step. Being a teacher and language school owner awarded for setting up educational projects about the environment and having been a green spot volunteer myself, made me a suitable candidate for the position of Deputy Mayor for Circular Economy and the Environment. All projects concerning waste management in our Municipality have been designed and applied within the circular economy framework and they are all supervised by the Mayor himself, myself and Dr Adamantios Skordilis who set up the North Corfu Waste Management Plan.
You have been running the project 'Healthy Little Eaters' for several years now - how did this start and how is it going?
"Healthy Little Eaters" was set in motion in 2014 at "Spyridoula Kokkali" Foreign Language School in Acharavi, Corfu, as an experiential project of healthy eating, compost-making and organic farming. It aimed at reversing the status quo in the destructive dietary habits of the students. It started out by simply rewarding the students who consumed healthy snacks during breaks, went on with the production of compost from the peels of the vegetables and fruit they consumed, the construction of a greenhouse inside the Foreign Language School and the creation of a seed bank. The project evolved even further when it broke away from the confines of the Language School and encouraged members of the local community to participate in a variety of ways. As a result, the activities diversified, including training seminars from dieticians and doctors, visits to local fresh food industries, guided tours to greenhouses, trips to Natura-designated areas, as well as the creation of social messages which were very well received by social media users.
The main hub of the movement is the development of the participants' naturalistic intelligence



Healthy Little Eaters session (pre-Covid)
The "Healthy Little Eaters" project is the winner of ELT (English Language Teaching) Excellence Awards 2021 in the "Community and collaboration" category. It has also received an award for our zero waste practices by WWC (Waste Watch Corfu).
Because of the Covid pandemic, however, it is very difficult to organize outings and gatherings with our students, so we haven't done any more projects over the last 2 years. When the pandemic is over and everything is back to normal, the HLE project will be applied again.
You can find out more about Healthy Little Eaters here
You've also recently become involved in the project 'Young Critical Thinkers'. How did this start and what are its aims? How important is critical thinking in young people and how can we encourage this?
"Young Critical Thinkers" is my new ELT project that invites students from all over the world to express themselves freely on a different social issue every month through an online platform. I came up with this idea during a lesson, when a simple question triggered a highly impressive debate among the students. There is always a keynote speaker whose role is to set the foundations for the students' presentations that follow. The aims of this project are clearly to motivate teachers and students to express themselves using their critical thinking skills in English, put their presentation skills into practice and communicate with students and teachers from all over the world. The project is an ELT Excellence Awards 2022 nominee.




Critical thinking is one of the most important 21st century skills so it is very important especially to young people. Critical thinking is the key to career success since there are many professions where critical thinking is an absolute must - i.e. doctors, lawyers etc. - but most importantly it helps people make better decisions and become well-informed global citizens who can deal with all of life's issues in a well-balanced way. Education plays a crucial part in encouraging critical thinking, providing teachers are willing to devote time and effort to organize and put together special lessons and projects that require students to use their critical thinking skills.
How do you think we can keep a balance between tourism and protecting the environment?
I firmly believe that a way to keep a balance between tourism and protecting the environment is to encourage ecotourism. Tourists who choose to come to Corfu to go cycling, walking, running, horse-riding, scuba diving, are the ones who love nature, respect it and will most likely protect it.
In addition, law implementation is of utmost importance, of course, so as to make sure that all tourism-orientated businesses, i.e. hotels, bars, restaurants etc., abide by the waste management regulations and that all Natura-designated areas, places of natural beauty and beaches are protected against being built upon.
Do you feel optimistic about the future?
I am an optimistic person but it also my duty as both a teacher and a Deputy Mayor to be optimistic. It is a great driving force and attracts positivity which paves the way to evolution, not only for individuals, but for social groups and future generations.