Regional Authority takes delivery of 152 recycling bins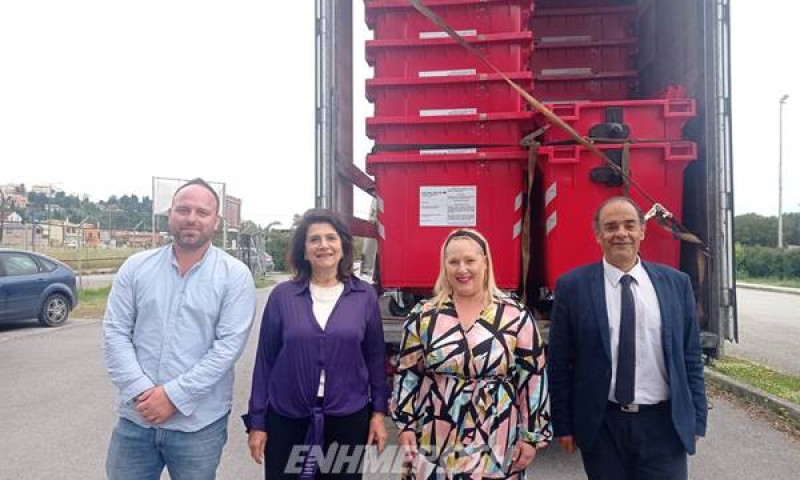 CORFU. Regional Governor Rodi Kratsa and Deputy Mayor for European Programmes Panayiota Tzanne were present for the delivery.
Today, the Ionian Islands Regional Governor, Rodi Kratsa, and the Central Corfu Deputy Mayor of European Programmes and Digital Governance, Panayiota Tzanne, took delivery of 152 recycling bins. Also present at the delivery were the Deputy Regional Governor for Corfu, Kostas Zorbas, and the Municipality Scientific Advisor, Victor Dimoulis.
These bins are intended for the collection of waste with sorting at the source into different streams and will be used both at the small Green Spot on Eptanissou St., the construction of which is underway, as well as at other points in Central Corfu.
As the Regional Governor stated, the supply of these specific red bins was made through the Interreg Greece-Albania programme, Waste RReact, to equip a modern Green Spot in Corfu, as well as in Zakynthos.
"Starting from Corfu, the Green Spot which will be a 562 sq.m space on Eptanissou St. has already been identified, where special equipment will be placed so that it can be a space for depositing and collecting urban waste by streams," said the Regional Governor.
"The delivery of the bins is the first step, and we are also expecting the completion of the infrastructure in the Green Spot," she said. "Through the cross-border programme Interreg Greece-Albania, the Region is contributing to the effort made by the Municipality of Central Corfu to be a modern clean town. We hope that the other parts of the programme, amounting to €472,000 for the two Green Spots of Corfu and Zakynthos, will be completed soon."
Panayiota Tzanne said that it will be determined by the Ministry of Environment whether the red bins will ultimately be for metal and the blue ones for plastic. She also added that the Municipality has already gradually started receiving brown bins for organic waste and yellow ones for paper, through another European programme.