Blue bins being replaced by purple clothing recycling bins in Central Corfu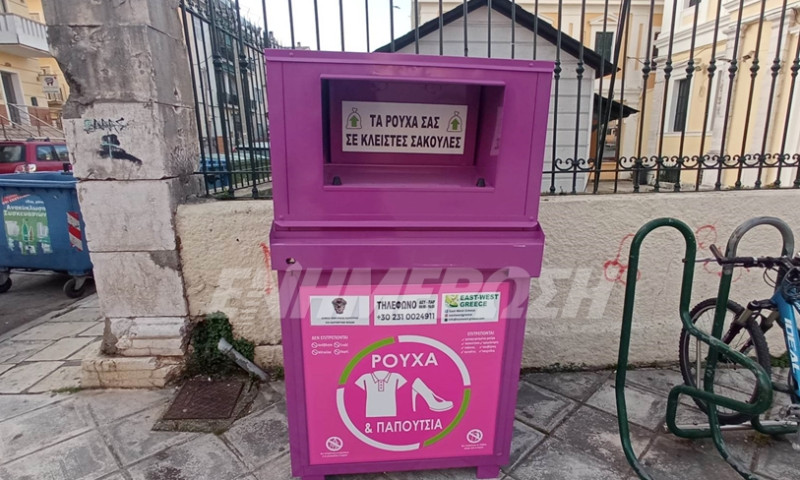 CORFU. The number of bins has been increased from 26 to 38 due to good public response.
Central Corfu Municipality has replaced 26 blue clothing recycling bins with purple ones, in compliance with the New National Waste Management Plan (ESDA). The bins were placed in the same locations within the town (e.g., Rizospaston Voulefton, Alexandras Ave, Mon Repos) as well as in the surrounding areas. Moreover, because the response from citizens exceeded expectations during this period, the Municipality added 12 more bins, increasing the total number to 38.
Reuse or recycling
Members of the public can deposit used clothing, shoes, bags, towels, hangers, blankets, and toys in the bins. In this way, items that are discarded, instead of ending up in the rubbish, will be collected and if they are not deemed suitable for reuse or donation to social groups, they will be recycled.
Deputy Mayor of European Programmes, Development and Digital Governance, Panayiota Tzanne told Enimerosi that residents have embraced the effort being made, adopting the philosophy of the circular economy in their daily lives.
"The response from the public has been incredible," she said. "Last year, 70 tons of clothing were collected from the blue bins by the contractor in cooperation with the Cleaning Service, with a corresponding benefit for the Municipality."
Some of the items that are collected are given back to the Municipality, in order to be donated to social groups in need of support. The rest are sent to a recycling plant in Germany through the contracting company. The recycling map with the locations of the bins is posted on the website
https://recycle.corfu.gr/
.
Regarding the bin that was placed in front of the Ionian Parliament, Ms. Tzanne stated that the position is temporary and it will be moved to another location in a few days.