Ikos' website talks about "private" coastline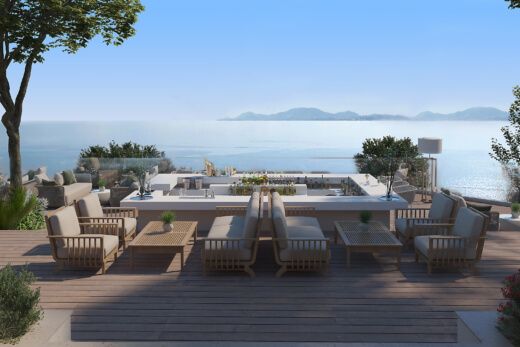 CORFU. In 2019, an article talked about the "private" Vidos Island – Today, the Ikos Resorts website is advertising the new Ikos Odisia hotel's view across a "private coastline".
With construction work progressing quickly, Ikos Resorts will open its second hotel in Corfu in 2023. The company announced that the 5-star Ikos Odisia Hotel will open its doors on 19 May 2023 and it is already accepting bookings.
The hotel's website invites guests to enjoy "the unrivalled 'Infinite Ikos' experience", even highlighting that the hotel is located in a position with a view across a "private coastline":
"Breathe in fresh, forest air and saunter along soft, velvet sands, as you soak up the sun and culture along Corfu's dazzling Ionian coast.

The second Ikos to open on the island, the emblematic Ikos Odisia sits protected in a secluded bay across from globally-awarded Ikos Dassia, gracefully elevated for dramatic views across a private coastline."
Screenshot: Ikosresorts.com/8 July 2022
The hotel promotes privacy to its customers as one of its advantages. However, it is known that according to Greek law the words "private" and "beach" do not belong in the same sentence, as the seashore is in any case public property.
Vidos Island
In the advertisement and promotion of its luxury amenities, the hotel is of course also mentioning the restaurant on Vidos Island, but this time the term "private" is only referring to a "boat ride".
Screenshot: Ikosresorts.com/8 July 2022