"Closed due to incompetence": Sign outside the New Fortress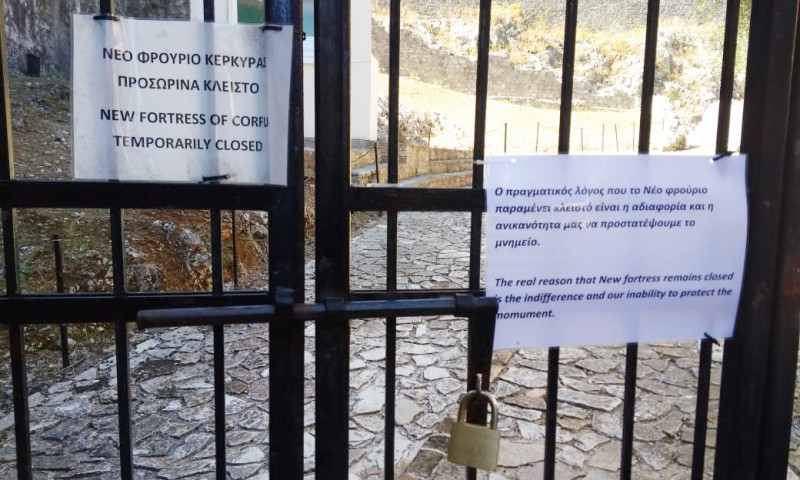 New Fortress
30 Σεπτεμβρίου 2019
/
06:55
CORFU. The site has been closed for two years.
A sign protesting about the condition of Corfu sites and monuments has been placed by unknown persons on the entrance gate to the New Fortress:
"The real reason that the New Fortress remains closed is the indifference and our inability to protect the monument,"
says the sign in Greek and English.
Visitors who wish to visit the site are greeted by a padlocked gate and a simple notice saying the Fortress is
temporarily
closed. It has been closed for two years now due to lack of personnel! It should be noted that during those two years at least three Ministers for Culture have visited Corfu...
The New Fortress, situated on St. Mark's hill above the Old Port, is said to offer the best panoramic view in Corfu. The Fortezza Nuova, as it was called in Italian, was built by the Venetians in the 16th century to reinforce the island's defences as the Old Fortress was no longer sufficient.
It is an austere construction built on two levels and its two ramparts are considered to be important examples of fortress architecture. The upper one is called the Rampart of the Seven Winds and to reach the top and admire the stunning view from the cafe bar there one has to pass through tunnels and passageways which takes one back to the time of Venetian lords, knights and damsels. According to popular tradition, work started in 1576 with 10 - 15 thousand labourers working every day and using materials from about 2,000 Corfu houses and churches. The Royal Gate is decorated with the coat of arms of the Most Serene Republic of Venice - St. Mark's Winged Lion - a true work of art.
The stone-built barracks which were built during the British occupation, used to host cultural events and had a cafe bar.
The old gun battery, ammunition stores, water tanks and underground passageways in the New Fortress have been preserved in such good condition that one can get a clear picture of the Venetian methods of defence.
Even though it has been bombed, pillaged and even voluntarily destroyed by Corfiots, Corfu New Fortress still remains an impressive sight. When it can be visited, that is....