Spyros Neratzis: "Serious deficiencies in Vidos΄ fire safety"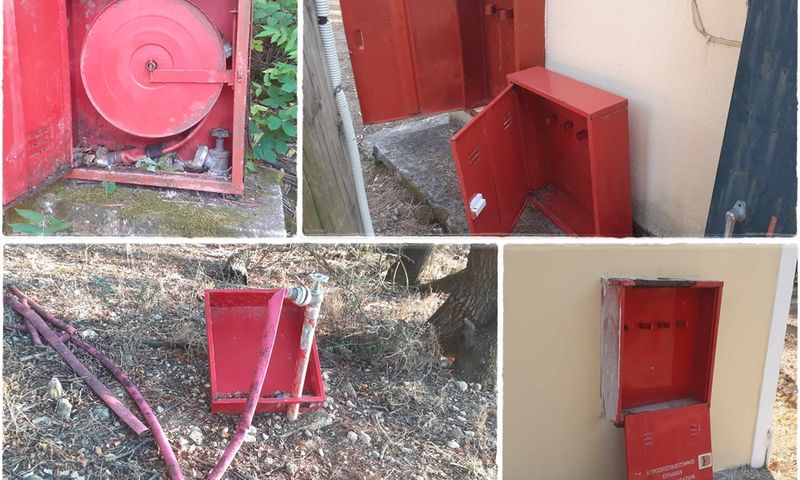 CORFU. Most of the fire tool stations and fire hose cabinets are without equipment.
Spyros Neratzis, the leader of the I Kerkyra Psila party, recorded serious shortcomings in the equipment of fire tool stations and fire hose cabinets.
Statement from Spyros Neratzis
With knowledge, courage, vision and love for our island, let us look at the fire safety on Vidos Island and what we need to do immediately for 2024.
We have found that for 2024 it is necessary to make the following interventions to the existing fire safety network:
1. In the licensed fire safety network of Vidos camp:
- Of the 12 new fire hose cabinets, 4 hoses, 4 nozzles and 2 cabinets are missing.
- All equipment is missing from all of the 5 fire tool stations.
Unfortunately, these shortcomings were found around the area where the children of the creative activities programme are accommodated daily.
2. On the rest of the island:
- Of the 19 fire hose cabinets, only 2 are complete. 17 hoses and 17 nozzles are missing from the rest, 7 fire hose valves need to be replaced, 9 cabinets are missing and 9 more need to be replaced.
- There is one fire tool station but it is empty.
3. The following are also required (on the existing network):
- Installation of an existing fire hydrant
- 4 additional fire hose cabinets (there is the appropriate infrastructure for their connection)
- Replacement of 6 valves on the fire hydrants
- Transfer, installation and connection of the existing in our municipality's warehouses pump or purchase of a new one for the part of the island that is unprotected.
The budget of all the abovementioned is €13,500.
Spyros Neratzis