Event at Museum of Asian Art for August full moon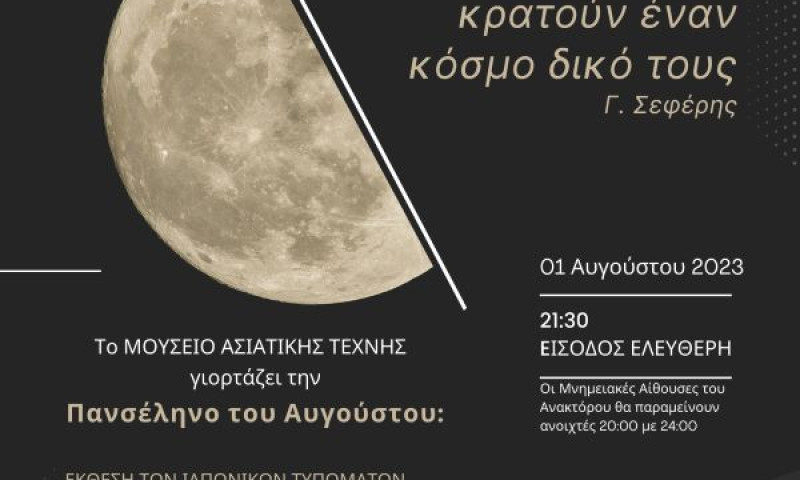 CORFU. (Museum of Asian Art) As part of the celebrations for the August full moon, organised by the Ministry of Culture, the Museum of Asian Art Museum in Corfu will be hosting an event titled: "'The Stars Hold Their Own World' - G. Seferis", on Tuesday, August 1, at 21:30. The event is being organised in collaboration with Corfu Astronomical Society.
The moon, as a symbol, holds special significance in Asian cultures. In many Asian countries, such as China, Japan and Korea, the moon serves as a source of inspiration in literature, poetry and all forms of artistic creation, portraying its serene elegance and reflecting its connection to emotions like love, nostalgia and even melancholy.
During the event, the audience will have the opportunity to closely observe three significant Japanese woodblock prints (ukiyo-e) related to the moon. The prints include "Falcon and Autumn Moon" by Isoda Koryūsai from the series "Eight Views of Exquisite Birds and Rooms (Zashiki)," "Courtesans Viewing the Moon at Sumidagawa" by Chōbunsai Eishi, in the Hall of Periodical Exhibitions, and "Autumn Moon at Ishiyama" by Utagawa Hiroshige from the series "Eight Views of the Omi Province," all inspired by the Full Moon. These woodblock prints depict the ephemeral and transient nature of the material world.
Socrates Linardos, the president of Corfu Astronomical Society, will talk about everything we would like to know about the August full moon, its widespread myths, and the truth surrounding it. The speech will be accompanied by Spyros Hondrogiannis, who will recite verses inspired by the moon and the starry sky.
In the Palace Colonnade, the audience will have the opportunity to observe the moon through a telescope, with the assistance of Vassilis Dionysopoulos and Amalia Poulimenou from Corfu Astronomical Society.
The Memorial Halls of the Palace will remain open from 20:00 until 24:00.
For more information, contact: 26610 30443 (ext. 41/ Panayiota Vassileiadou - Museum Educator, ext. 12/ Christina Panera - Archaeologist, ext. 20/ Christiana Kitsou - Librarian)