Ice cream: From a dessert of the royals, a favourite delicacy of the people!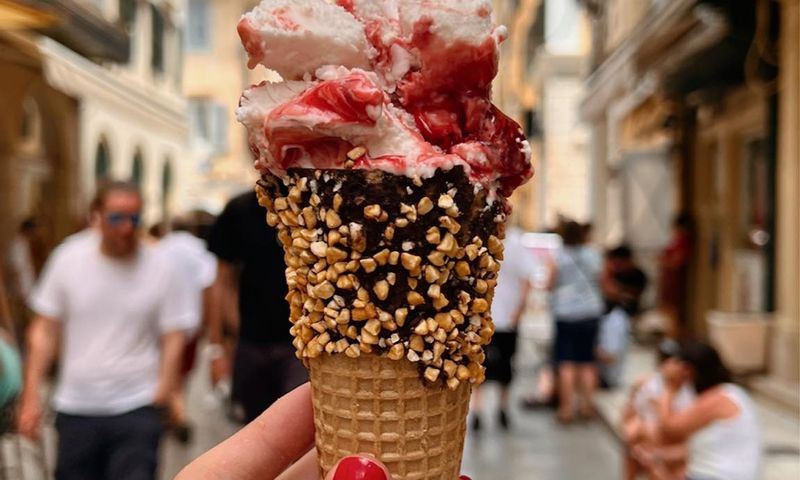 It is the end of May and the temperature is rising. So what better than to start looking for the best spots for handmade and delicious ice cream.
It is the end of May and the temperature has started to rise significantly. So what better than to start looking for the best spots for handmade and delicious ice cream. But first, let's take a trip back in time and ask ourselves how the production of this cool treat began, when it was first made and how it has evolved to the present day.




Ice cream came to Greece in the 1930's, but its history is lost in the depths of centuries. Yes, it's true, as its first recorded form seems to have its roots in ancient Greece. It is said that Alexander the Great enjoyed a dessert with frozen fruit and nectar. It is also said that Emperor Nero ate something similar in the 1st century AD when he sent his slaves to fetch snow, which he combined with fruit and honey and made a frozen snack - an early version of today's sorbet.




Many centuries later, between the 7th and 10th century AD, China presented an evolved version of the dessert which was ice mixed with fresh milk. Now let's move forward to the 13th century in Europe, when Marco Polo tasted this delicacy in China and decided to offer it to Venice as "loot". It didn't take long for the idea to spread. Near the beginning of the 17th century, it was recorded that Charles I of England paid his French chef 500 pounds a year to keep the recipe he and the members of the royal family enjoyed a secret. Despite his costly efforts, the recipe was not kept secret for long. However, it remained a delicacy for the rich as it was a difficult, demanding and above all expensive dessert for the common people.

The first modern ice cream inventor to introduce it to his shop was the Sicilian cook Francesco Procopio de Coltelli. In the centre of Paris, his shop called "Café Prokope" quickly became the favourite of many prominent personalities and intellectuals such as Rousseau, Diderot and Voltaire, and the reason for its success was none other than its ice cream. Since ice cream was no longer the exclusive privilege of royalty, soon, specifically in the middle of the 18th century, it arrived in America with the name "ice-cream" and after having passed from almost all parts of the world, at the beginning of the 19th century ice cream's reputation reached Greece. However, the first impressions were not at all pleasant as an ambitious Italian named Calvo decided to experiment by adding pigments. As a result, many of the aristocrats of Athens in 1835 ended up with food poisoning.




Officially, Greece was quite late in acquiring its own unit of milk ice cream products. In particular, this happened in 1934 thanks to the Sourapa brothers, while in 1936 they introduced ice cream on a stick, ice cream in a cup and ice cream in a cone with chocolate and almonds.

We hope we have whetted your appetite for refreshing ice cream because below you will find the ultimate ice cream spots in Corfu. Discover delicious and original flavours, excellent quality ingredients and a great variety!



ICE DREAM - THANOS SPIGGOS

This is truly a dream ice cream manufacturing shop. Delicious ice cream flavours made with pure and fresh ingredients, with true colours and aromas that have rightly had fans for years, who visit Ice Dream again and again for its delicious ice cream, milk shakes and freshly baked waffles.




Fresh, handmade ice cream, based on an authentic recipe, just like the homemade sweets made in a traditional pastry shop. Fresh milk and eggs, velvety heavy cream and fine Greek nuts meet and blend harmoniously with real chocolate. A delicious journey into both classic and non-classic flavours such as the timeless vanilla one made with a recipe that only certain people know. But you will also be delighted by its irresistible combinations with delicious waffles that you have never tasted before. A feast of flavours, made with love and care, always with respect to tradition. Ice creams inspired by fresh seasonal fruits such as strawberry with fruit pieces, pistachio produced with authentic pistachio paste, Italian stracciatella, the beloved mocha and the irresistible Greek yoghurt made from pure Greek milk.




2663098200, Perithia, North Corfu



KROKAN ICE CREAM

It is a family business that has been making ice cream since 1975. Inspired by the preferences of Corfiots and following experimentation, but with respect to tradition and quality, it adds new flavours to its palette of excellent ice creams that you can enjoy during a hot summer day. Every day you can find ice cream made from 100% fresh Greek milk in a wide variety of flavours.




Of course, there are options from cow's milk to vegan ice cream. Its ice cream flavours are another strong suit - stracciatella, bueno, crème caramel, coconut and baklava. But there was one more that we tried and it surpasses all previous ones - mosaic ice cream!




26610 34200, Potamos



LORETTO GELATO

With a name inspired by a small town in Italy, gelateria Loretto opened its doors in the heart of the old town in order for the authentic Italian gelato to have its own place on the island. A feast of ice cream flavours made with love and passion, waiting for you to discover and fall in love with them. The know-how of the Italians, who know gelato better than anyone else, blends with fresh Greek milk, juicy fruits, rich chocolate and creates a unique result. Just try it once and you'll understand.




Their passion for ice cream is obvious and Loretto will surely become your passion too. See how the authentic Italian gelato is made from quality raw materials, presenting special and subversive flavours, incredible sorbet or sugar free versions. If you are desperate to have a cheat meal, indulge in the deliciousness of Loretto's signature gelato, a must-eat choice for customers. The tasty surprises continue with cinnamon pepper, pasta flora, cheese cake, lemon pie and so on. The velvety texture, the unique flavours, the quick and friendly service and the favourite, perfectly matched combinations have found devoted fans.




26610 42760, Capodistriou 11, Old Town



EMERAL

There's not enough words to describe Emeral bakery and pastry shop - οne of the oldest and best known ones in the town with a history dating back to 1977. The name alone is a guarantee of quality and unique flavours. And the ice cream could not be an exception. Fresh and made with excellent raw materials, you will find it in many delicious flavours. Discover a wide variety of unique flavours of traditional ice cream with a velvety texture made from 100% fresh milk.




You can either eat it plain or with toppings, combined with syrups or in mini portions, choosing the mini ice creams or small bowls. Get a taste of what's waiting for you to try: cookies, chocolate, vanilla, yoghurt-honey-nuts, mocha, strawberry, lemon, almond praline, banana, forest fruit-yoghurt. As a special choice we would suggest the unique and extremely delicious flavours of ekmek kadaifi and kumquat which are taking us back to the past!




26610 91780, 10km Eth. Paleokastritsa Rd., Tzavros

26610 32242, Georgiou Theotoki 31 - San Rocco Sq.



DOLCE CAFE

Discover the numerous, original and unique ice cream flavours Dolce Cafe has to offer, as well as its amazing view. For years, the pastry workshop of this family business has not stopped surprising us with its imaginative and strange ice cream flavours. Have you ever tasted ice cream with ouzo or limoncello flavour?




How about a fig flavoured ice cream? Or, perhaps, ice cream with flavour like the famous 'bolshevik' dessert? No, we're not kidding... You will find all of these and many many more in Dolce Cafe's refrigerators to challenge all your taste buds. Elevate your ice cream by pairing it with Dolce's signature handmade bolshevik dessert!

With recipes of many generations, Dolce Cafe is for those of you who seek authenticity in flavours.




26630 41358, Lakones, Palaiokastritsa


We hope you enjoy it!

Enimerosi Publications