Energy upgrade of North Corfu Municipality΄s street lighting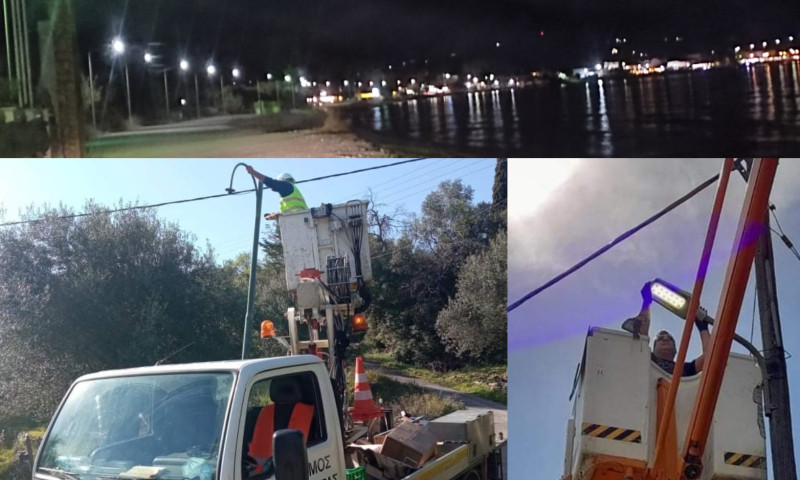 CORFU. Reduction of electricity cost – More light – 550 solar lamps – 150 LED lights.
One of the most important and modern upgrade projects of the North Corfu Municipality is going to be implemented with the installation of LED lights and 550 solar lamps for the energy upgrade of municipal street lighting and outdoor public areas, as well as the gradual replacement of illegal and dangerous network extensions with metal electricity poles.

Under the supervision of Deputy Mayor for Daily Life Issues Nikos Mouzakitis municipal crews replaced old and energy-consuming lights with energy-saving ones. In particular, 10,500 LED lightbulbs, 1,500 LED lights and 550 solar lights have already been installed, replacing the old ones, offering more lighting to communities, villages and beaches and saving over 70% energy.

The crews will also replace lamps in the following areas: Nissaki , Gimari, Kassiopi, Sinies, Perithia, Acharavi, Roda, Sfakera, Karousades, Astrakeri, Agios Ioannis, Yialos, Agnos, Nymphes, Klimatia, Kyprianades, Valanio, Agros, Manatades, Aspiotades, Drosato, Agioi Douloi Xanthaton, Episkepsi, Magoulades, Arillas, Velonades, Dafni, Avliotes, Agios Stefanos, Rachtades, Kavadades, Afionas, Kastellani Giros, Horoepiskopi, Agios Georgios Pagon, Prinilas, Peroulades, Melitsa, Loggas, Sidari, etc.

This way, the Municipality is saving significant amounts of money by reducing the cost of electricity consumption, while providing street lighting to neighbourhoods that until recently were in darkness.

"One of the main objectives of the Municipal Authority is finally becoming a reality. We received a Municipality without machinery, with poor lighting, dark corners, burnt-out lamps, many illegal and dangerous networks and it was inable to replace them in time due to understaffing. We continue to upgrade street lighting in all villages, communities and beaches of the North Corfu Municipality," said North Corfu Mayor Giorgos Mahimaris.