Restoration of Mon Repos buildings moving forward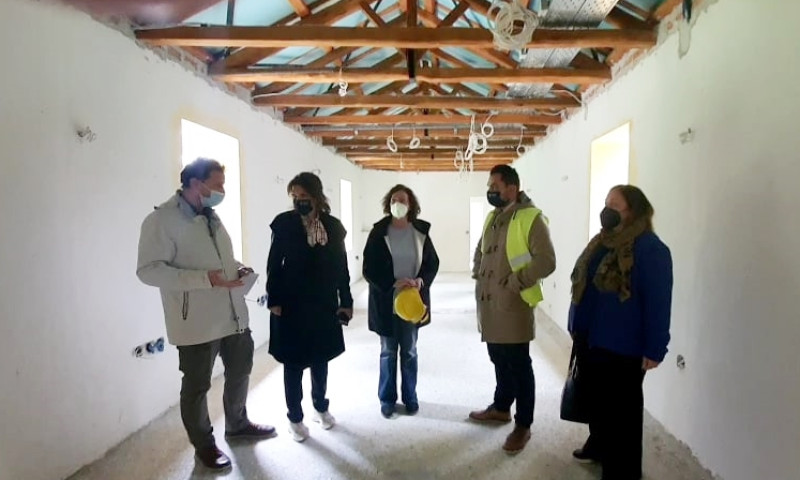 CORFU. The project started in 2019 by the previous Municipal Authority.
The Central Corfu and Diapontia Islands Mayor Meropi Ydraiou, along with the Deputy Mayor for Technical Works Nikos Kalogeros, visited Mon Repos to see the progress of the restoration work of the buildings.
The Municipality announced that, according to the representatives of the contracting company, the project is proceeding normally and two of the three buildings are almost completed.
In particular, the project concerns the restoration of three of the accompanying buildings of the Mon Repos Palace - the "Housekeeper Mastrokostopoulos' House", the "Clinic Building" and the "Staff Building".
In all three buildings the electrical work has been completed and the central air conditioning units have been received. In the "Housekeeper's House" building the work is about 80% complete and the windows, doors and floors remain to be installed.
In the "Staff Building" the work has progressed quickly and is about 50% complete. The upper floor has been reconstructed and, at this point, the roof is being installed, which consists of handmade tiles. It remains to install external and internal window and door frames, to reconstruct the staircase and place tiles.
As for the "Clinic Building", it has also been completed to a large extend. However, external window and door frames need to be installed, the exterior of the building needs to be painted and the yard needs to be fixed. The project is expected to be fully completed by September.
Mayor Meropi Ydraiou expressed her satisfaction for the smooth progress of the work, while Deputy Mayor Nikos Kalogeros said that the contracting company, in view of the tourist season, has proceeded to take additional safety measures.
The buildings will operate alongside the main conference room of Mon Repos with infrastructure to support educational and research activities in order to enhance conference tourism.
The construction contract with the contracting company was signed on 17 May 2019 with a € 660,377 budget. The project is funded by the Operational Programme 'Transport Infrastructure, Environment and Sustainable Development 2014-2020'.