Greek PM announces reduction of ENFIA by 13%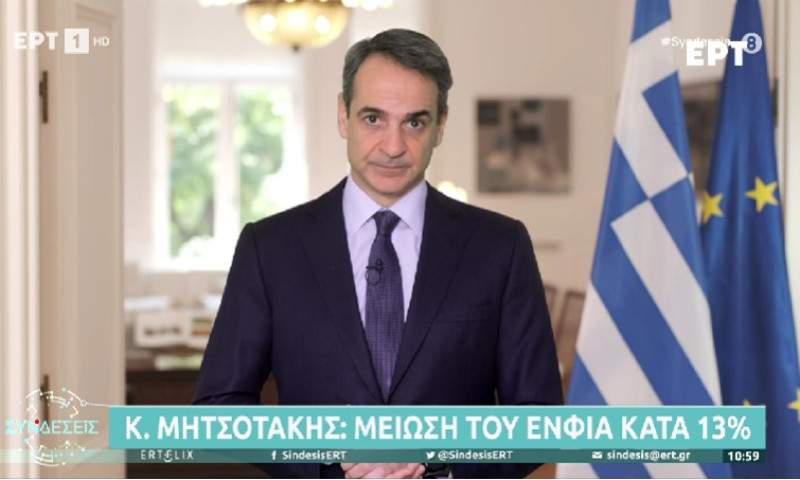 8 out of 10 of our fellow citizens will pay even less ENFIA (property tax) – Properties worth up to €100,000, instead of €60,000 that was valid until now, will have a 30% reduction.
Statement from Prime Minister Kyriakos Mitsotakis:

The government is proceeding, today, with a new generous permanent reduction of ENFIA by 13%. It is, thus, exceeding its commitment for an overall property tax relief by 30%. A decision that is fair to society and beneficial to the economy, which means that Greeks will now be required to pay, every year, €860 million less than in 2018 and €350 million less in 2022 alone.

I am aware of the pressure that the average income is under, due to the international energy crisis and the price increases the latter is causing, something that occurs everywhere in Europe. That is why the state will continue to subsidise part of the increases in electricity bills. It is, however, also insisting on a steady reduction of taxes and contributions, in order to enhance the disposable income of all households. And, on May 1, it will implement a second significant increase in the minimum wage.

Thus, 8 out of 10 of our citizens will pay even less ENFIA. Some will pay the same amount, while, a small minority – about 6% – will see a small increase. It is a minimum return to the whole society, as the real value of property in some areas has doubled or even tripled.

The Finance Minister will present our full plan on property shortly. A key element of the plan, however, is the significant reduction in the basic tax on buildings, with the reduction in plots of land reaching 50%. Thus, properties in medium and lower value areas are the ones with the greatest benefit. In other words, this is a choice that is clearly in favour of the weakest and the middle class.

It should be noted that, from now on, properties worth up to €100,000, instead of €60,000 that was valid until now, will have a 30% reduction. The tax scale is becoming fairer. The additional ENFIA, which is no longer in force, has also been integrated into this, while, as I said, the overall reduction in the tax is €350 million per year instead of the €70 million provided for in the budget.

This new initiative is based on the consistent economic policy we are following and it allows for additional relief measures. It works not only in combination with other permanent regulations, such as lower tax rates, suspension of the solidarity tax in the private sector and zero tax on parental benefits, but also cumulatively, with emergency interventions, such as December's double guaranteed income and the increased benefits for low-income pensioners.

It is, however, a realistic move that does not exceed the budgetary limits. For any step forward must be taken in a way that does not lead to two steps back. This is how our country has remained upright and developed during the two-year crisis. This is how it will now deal with the temporary global turmoil. The country is upright and so are the citizens. With our support and their own strengths.