Spectacular opening of International Festival of Mediterranean Cultures at Municipal Theatre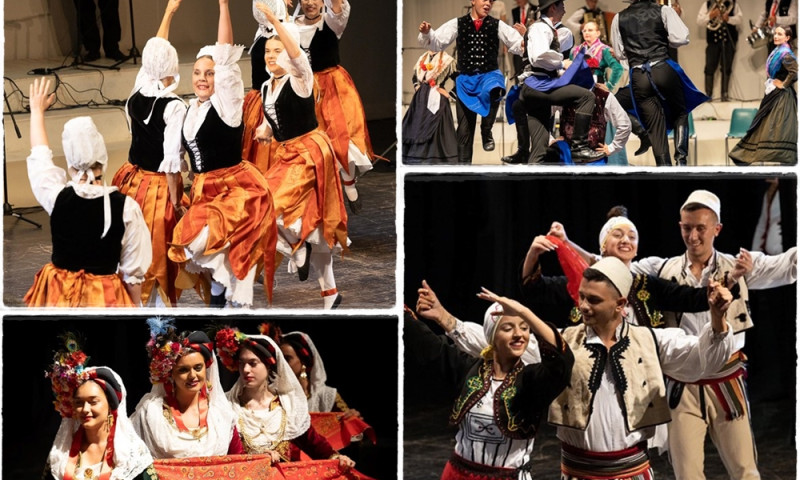 CORFU. Today΄s programme of events in Corfu Town and Acharavi.
The official opening of the International Festival of Mediterranean Cultures took place on Wednesday evening (6/9) in a spectacular event full of colours, music and dances of the Mediterranean at the Municipal Theatre, as the weather did not allow the event to take place in the Palace of St. George and Archangel Michael, as originally planned.
The organisers of the Festival, which is being held under the auspices of the President of the Hellenic Republic Katerina Sakellaropoulou, Kostas Ioannidis (President CIOFF Greece), Andreas Floros (Ionian University Dean), Renata Dalianoudi (Associate Professor of Music and Audiovisual Culture, Department of Audio and Visual Arts) and Yiannis Garnelis (Sinies Educational and Cultural Society President) declared the beginning of the events, while the CIOFF President Alejandro Camacho González and the CIOFF South European Sector Representative Anna Maria Boileau also gave a speech.
For more than two hours, representatives from twelve Mediterranean countries danced traditional dances of their countries, receiving warm applause from the attendees.
Dance groups from Greece, Spain, Bosnia and Herzegovina, Italy, Portugal, Montenegro, Croatia, Slovenia, Albania, Cyprus, Israel and France, wearing their traditional costumes, brought the tradition of their counties to the Municipal Theatre's stage, offering an impressive spectacle.
Thursday's programme
The festival events for today (7/9) include musical and dance performances at 19:30 in Annunziata Square, Old Town Hall Square, Lemonia Square and Liston, while at 21:00 in the Scout Hall there will be a musical and dance performance with groups from Greece, Italy, Bosnia and Herzegovina, France, Croatia and Montenegro.
Also today at 19:30 at the Acharavi Town Hall in North Corfu Municipality will present a traditional dance programme by groups from Greece, Slovenia, Portugal, Spain, Cyprus, Albania and Israel, while there will be an exhibition of traditional wedding costumes from Mediterranean countries (CIOFF® Living Wedding Traditions Cultural Project) and an exhibition of photographs by the Sinies Cultural Society photographic team.
Photo: Enimerosi