New wells in Loutses - 2,000 cubic metres of high-quality water per day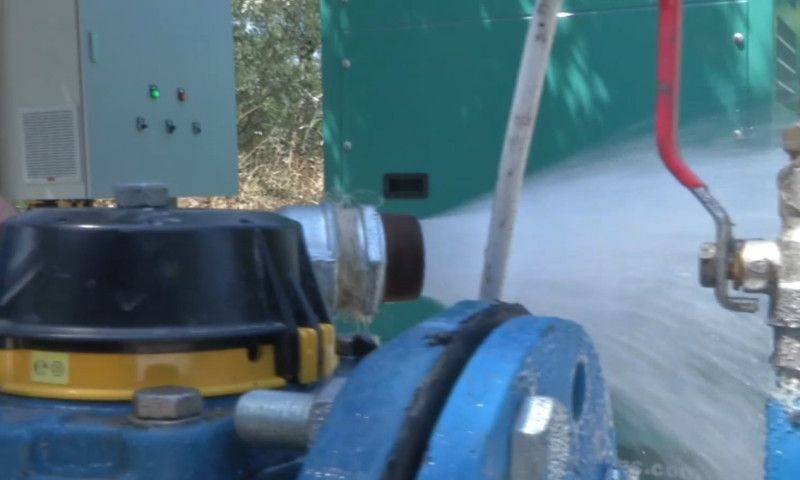 CORFU. The new facility was officially opened yesterday.
(North Corfu Mayor's Office) August 27th, 2023, marks the beginning of a new era in water supply for the Municipality of North Corfu and its residents. The inauguration took place with the commencement of operations from the two new wells in Loutses, which supply the network with an additional 2,000 cubic metres of water per day.
And since all things start with the blessings of God, the customary consecration was performed on Sunday afternoon by the priest Ioannis Salvanos at the drilling facilities.
The following were present at the ceremony: Giorgos Mahimaris, Mayor of North Corfu, Panayiotis Papadatos, President of the Municipal Council, deputy mayors Hariton Koutsouris, Nikolaos Mouzakitis, Spyridoula Kokkali, Theodoros Mavronas, community leaders of old and new communities - Kassaris Polymeros of Perithia, Nikolaos Banos of Lafki, Thomas Vlachos of Loutses, Nikolaos Michalopoulos of Nissaki, Angeliki Leftherioti and Ioanna Karakonstantaki of Afionas, Spyridonas Bardis, former president of the Afionas community, representatives of various associations, employees of the DIADEYADK Northern Water Department, water consultant Vassilis Salvanos and members of the public.
It is worth noting that one of the two drillings, located in Magarika, Loutses, began operating two days before the major fire on Pantokratoras. This turned out to be providential as it supplied water to firefighting vehicles during the days of the fire. Even with the extensive power outage (it operated on a generator), water supply to Loutses was not interrupted when the flames entered the village.
The water provided by the new drillings from a depth of 300 metres is of excellent quality and a substantial amount, over 2,000 cubic metres of water per day, is now being added to the network. In the coming weeks, through various improvement projects carried out by the North Corfu Municipality, an additional 5,000 cubic metres will be added, effectively resolving water supply issues.
On the same evening, Loutses Cultural Society organised, with the support of the municipal authority, a special event with a dual purpose. Firstly, to express gratitude to all those who assisted in extinguishing the fires, and secondly, to show appreciation for those who stood in solidarity in whatever way possible. Those who came enjoyed a wonderful evening in the village square with melodies and complimentary refreshments.