Seaweed being removed from Mon Repos beach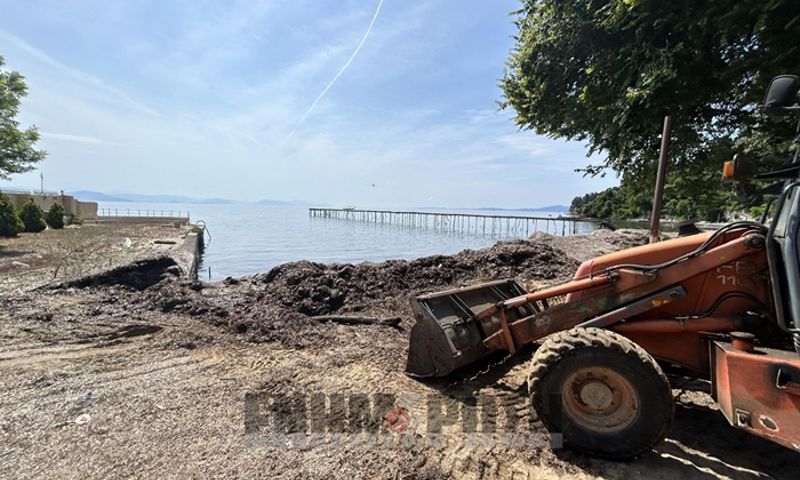 CORFU. The work is being carried out as part of the beach clean-ups carried out by the Central Corfu Municipality in view of the summer season.
The work to clear the seaweed from the Mon Repos beach, also known as the Royal Baths, has only just begun today, even though the tourist season has started for quite some time now. Mon Repos beach is a particularly popular one amongst both locals and visitors for a quick swim within the town. However, to this day, the beach had mounds of seaweed that had been built up everywhere.

As the Central Corfu Deputy Mayor of Spatial Planning, Urban Planning and Environment Mimis Katehis told Enimerosi, the work will be completed in the next few days, but it is open for anyone who wishes to visit it for swimming. "Those who want can go, but there is a lot of seaweed," he pointed out. The beach is being cleared by a private contractor on behalf of the Central Corfu Municipality, in order to remove the seaweed and the beach can once again be accessible to bathers.

Private contractors have undertaken the clean-ups of 22 coasts (including three in the Diapontia Islands) within the Central Corfu Municipality, based on a unanimous decision of the Economic Committee, as the Municipality does not have the required equipment. The work includes the addition of sand, where necessary.

"Work has started to clean the beaches so that they are ready for the summer. The clearing of the Ipsos beach is almost complete, and the day after tomorrow it will be carried out in Benitses. The weather so far has not been helpful for these works to take place. Up until a week ago wood came out of the sea," said Mr. Katehis.


Open on 14 June

The lessee who operates his business on the Mon Repos beach is already getting ready to welcome the first bathers. The area from the beach and above has been leased to a private individual for 10 years (from 2016 until 31 July 2026). The business operating within the area is expected to open on Wednesday 14 June.

"We are waiting for the beach to be cleared. They came today with a machine to remove the seaweed. Since last Saturday, however, the site has been open for anyone who wishes to come for a swim," the lessee, Mr. Konstantis, told Enimerosi. According to him, it will be open from 10:00-20:00.


Wooden platform still without licence

The wooden platform still remains an important issue. It does not have a licence and although it is in poor condition and needs repairs, the latter cannot be carried out as issues of legality arise.

When asked by Enimerosi, Mr. Katehis said that there is no news on this issue. For the protection of swimmers, a prohibitory sign will be placed again this year in front of the platform as it is dangerous.