Decision on permission for Vidos summer camps to be taken following inspection on 16 June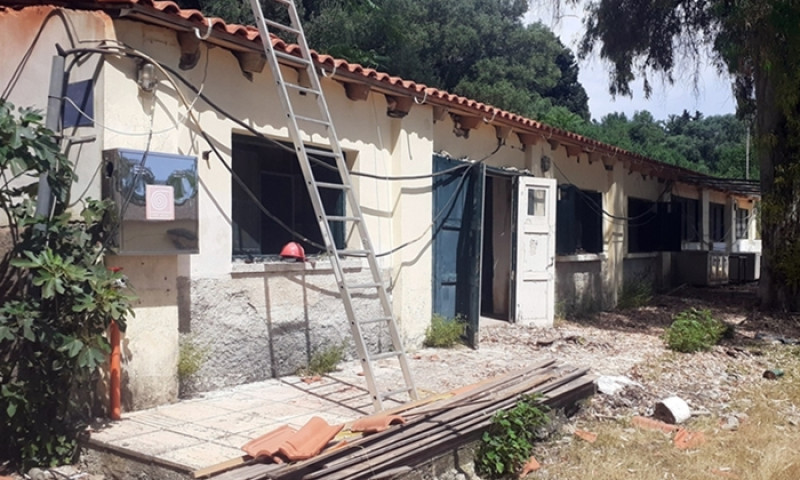 CORFU. Municipal councillor Vassilis Melidis: The buildings will be ready and we aim to begin the summer camps at the beginning of July.
The restoration of the summer camp facilities on Vidos Island is in the final phase, according to the responsible municiipal councillor, Vassilis Melidis.
He told Enimerosi that on June 16, a delegation from the Ionian Islands Regional Authority is expected to conduct an on-site inspection to determine whether the required operating licence will be granted or not. The current municipal authority gives assurances that the summer camps will reopen this summer to welcome the young campers.
According to Vassilis Melidis, the building facilities will be ready, including the renovated toilets. "The contractor is on Vidos," he said. "The work in the kitchens, including the replacement of the roof, have been completed, and the toilets will be ready by June 15. The Technical Works Department is also looking into the issue of the sewage system to determine the way forward. We aim for the camps to operate this year."
Photo: Enimerosi 31/5/2023
Photo: Enimerosi 31/5/2023
Sewage system a prerequisite
The construction of a sewage system is a fundamental prerequisite for the camps to obtain the desired permit. The budget adjustment to include the procurements for the project has been made, but the work has not yet begun. According to the municipal councillor formerly responsible for Vidos, Spyros Neratzis, the ongoing contract only concerns the repair of the toilets and the roof in the kitchens.
However, since the roof of the kitchens remained without tiles throughout the winter, water got in, causing problems with the ceilings, electrical and plumbing systems, which need to be restored.
As for the hiring of the necessary staff for the camps and for catering, the announcement has not yet been released and nor has the tender for catering.
However, in a recent session of the Central Corfu Municipal Council, Deputy Mayor of Social Policy Andreas Skoupouras gave assurances that it will be published within a few days.
Photo: Enimerosi 31/5/2023
Early July
Despite several pending issues, Mr. Melidis expressed confidence that the camps will be able to open in early July. The plan foresees the operation of four camp periods, where primary school children can participate free of charge.
Mr. Melidis said there is an approved budget of €20,000 for the operation of the camps. However, he added that if it needs to be increased, considering that last year the allocated amount was €41,000, it can be adjusted through a budget amendment. This would, however, require a new session of the municipal council to obtain approval, further delaying the necessary tender procedures.
Last summer camp in 2017
The summer camps on Vidos last operated in the summer of 2017. While they were open, they served as a carefree summer retreat for young campers.