The hidden treasures of Vidos Island's history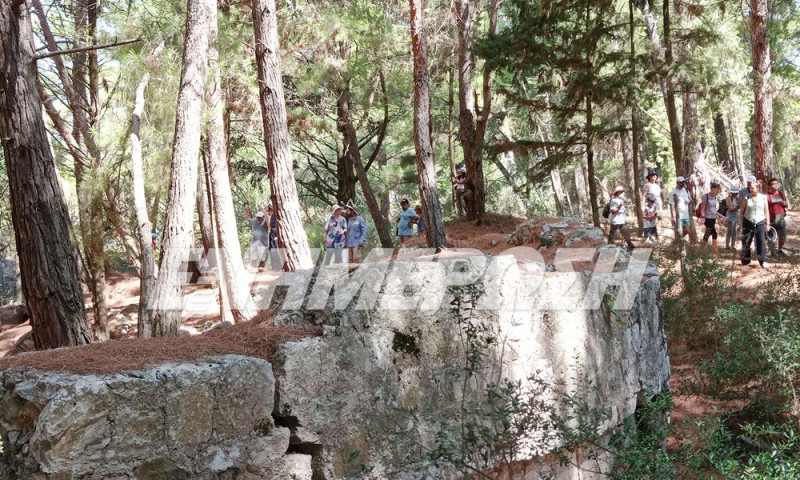 CORFU. A historical tour by ΄Corfu Fortifications΄ and another perspective of Vidos Island, very different from that of the summer resort.
Those who responded to the invitation of the 'Corfu Fortifications' page administrators for a historical tour of Vidos had the opportunity to see the island from another perspective, very different from that of summer getaways, relaxation and camping.
Theofilos Tzikas, the host of the meeting and administrator of the page said that the turnout was surprisingly good, as about 50 people showed interest in seeing this other side of the island.
Theofilos Tzikas, who has devoted considerable time to delve into historical sources, led the visitors to the ruins of the fortifications, most of which started being constructed in 1716 and were gradually completed by the Republican French and then the English.
Unfortunately, an important part of the island's history was blown up with the departure of the British and the unification of the Ionian Islands with Greece in 1864 under the Treaty of London.
However, many parts of the walls still exist to this day, while the gun emplacements of the Fort Schulenburg remain remarkably intact!
The three fortresses (Wellington, Schulenburg and Georgios), which formed a strong defensive triangle along with the Old and New Fortresses, were brought to life through detailed descriptions and maps.
It is worth mentioning that not only Corfu residents participated in the tour, but also expatriates and even foreigners. Walking with them, we heard many of them admit that they had never imagined the historical treasures that Vidos hides.
This is more or less expected, as these monuments have not received the necessary maintenance and promotion. Much of them are still hidden by dense wild vegetation and thick layers of pine needles. The only thing that still keeps them standing is their impregnable construction, even after the bombings.
Photos & video by
Enimerosi