Religious services behind closed doors in Easter Week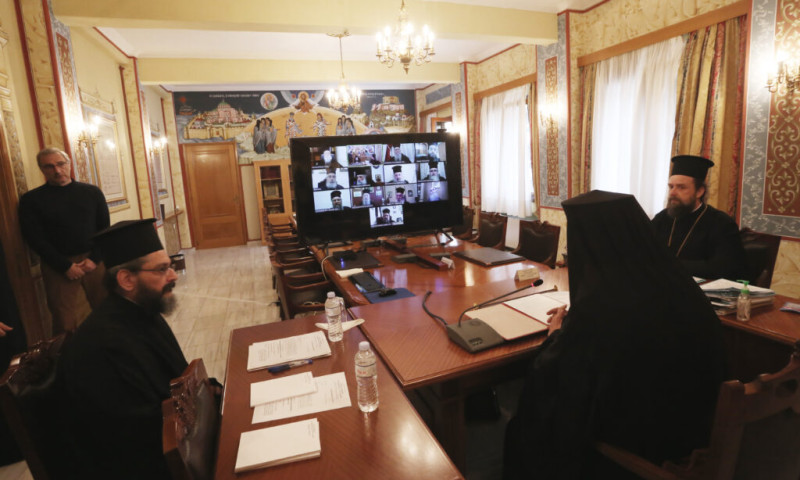 ATHENS. Church of Greece Holy Synod decision due to coronavirus - Donation of €150,000 plus one monthly salary from each of the Synod members.
The Holy Synod's April meeting took place on 1 April via teleconference like the Government Cabinet meetings due to the lockdown measures and to set a good example.

According to its statement, the Holy Synod decided that the services during Easter Week will be conducted behind closed doors.

"We are announcing with great pain and 'bleeding hearts' literally that for Easter Week and the Lord's Resurrection for all church members will be something unprecedented - missing the services and holy communion. For this reason, the Church of Greece Holy Synod would like to paternally request all believers not to forget what the authentic interpreter of the Gospels and great Father and Teacher of our Church St. John teaches: "The person who is not able to go to church can make himself the altar at which to pray".

"We hope and pray that the danger passes quickly so that altogether (clerics and laypeople) can have the opportunity to celebrate the Resurrection of our Lord at midnight between Tuesday 26 and Wednesday 27 May," the statement says regarding the celebration of the Lord's Resurrection.

The Holy Synod had a long discussion on the subject of giving help to those with the virus and the country's health services, which is already being done by the Holy Metropolis and all the other Metropolis Churches in Greece.

As an initial practical demonstration of this the Holy Synod decided that the Church of Greece will immediately donate €150,000 and gave the Church Central Finance Service Administrative Committee the responsibility of contacting the Public Health Services so that the Church of Greece could give further help.

The members of the Holy Synod decided to donate one month's salary to help with needs arising from the pandemic and called on other priests to do the same.