Corfu 'Amazon' Annie Vatidi comes 2nd in the Greek National Equestrian Championships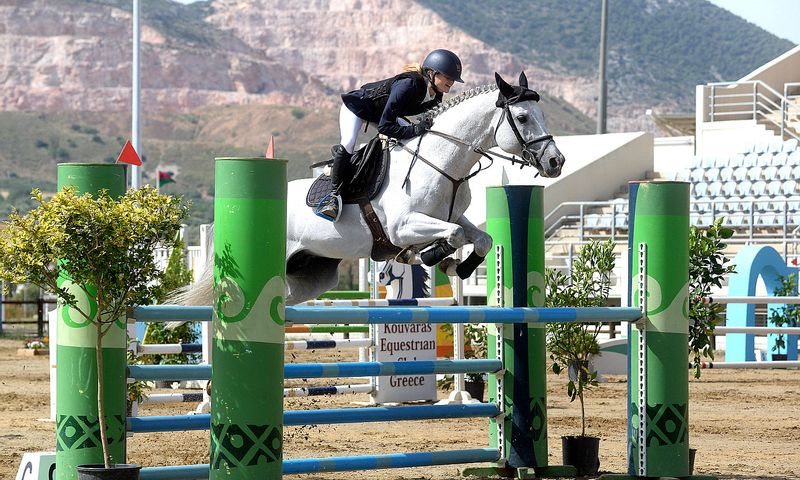 ATHENS. The Olympic Equestrian Centre in Markopoulos, Athens hosted the METKA Equestrian Championships, where 2018 champions for the two Olympic events – Show Jumping and Dressage – were decided.
In the children category, the young Corfu 'Amazon' Annie Mayo–Vatidi came 2
nd
with the horse Canton H (Athens Equestrian Club). She was amongst the leaders in each of the categories she participated in. With this performance she proved that she is continuously improving and that she can be considered for the Greek team at the Balkan Championships in the children category.
Annie Mayo–Vatidi was born in Corfu in 2004 and is the daughter of Ion Vatidis, one the oldest active horse-riders in the sport. Since she was a young girl, she has shown her love of horse-riding.
In the field of sport, she started with Cross Country Jumping and then went on to Endurance Riding. She also took part in Show Jumping and Dressage events. Annie lives and trains in Corfu and has the support of her parents and several members of the Corfu Team - her trainer Elena Trikalioti - a former champion, Sally Spencer, who keeps her horses in excellent condition, and two other trainers from Athens, Elina Dendrinou and Dimitris Natsis.
Her goal for 2018 is to be selected for the National Team at the Balkan Championships in Croatia and to do well there.