Ionian University Department of Music 30th anniversary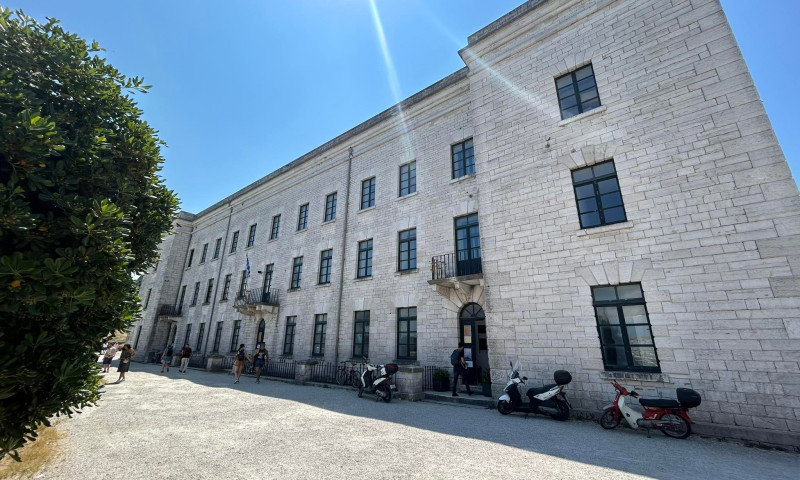 CORFU. Many of the department΄s graduates excel in their academic careers at reputable universities in Greece and abroad.
The Department of Music Studies at the Ionian University, which was established in October 1992, is celebrating its 30th anniversary this academic year (2022-2023),
Since then it has followed an ascendant trajectory, managing to acquire the reputation as the most recognised Greek higher music education institution abroad.
Recently, its undergraduate programme was certified by the Hellenic Quality Assurance and Accreditation Agency in accordance with level 7 (integrated Master) of the National and European Qualifications Framework, confirming its high value, research, artistic and educational work in all fields, its international impact, as well as its student-centreed character.
Especially in the last five years (from 2017 to 2022), the Department has shown impressive progress in terms of its nationwide ranking among similar Departments in relation to the admission criteria.
The
Head of the Department, Professor Anastasia Siopsi, told Enimerosi
that in the last two years, it has become the Department with the second highest admission criteria among the five Departments in Greece, despite the fact that until recently it was the only Music Studies Department operating in a regional university. In the last academic year, 2022-23, out of the total 107 admitted students, 68 declared it as their first choice and 39 as their second choice.
Postgraduate degrees
Its study programme constitutes a unique combination of a university and a music academy. "We have three established streams (Music Composition, Music Performance and Music Sciences), and we now award a unified and indivisible postgraduate degree title (integrated master) at level 7 of the National and European Qualifications Framework in each of the three study streams we offer," explains Ms. Siopsi and adds:
"The goal of our Department is to evolve and align itself dynamically with scientific and artistic progress, to enhance the mobility of teachers and students, as well as their organic connections, to cultivate a sense of common identity and culture, and, above all, to strengthen the student-centreed nature of the learning process. At the same time, of course, it constantly strengthens its outward focus and role at local, regional, and national levels, and enhances the promotion of its work and achievements. We are moving forward continuously and systematically in all these directions."
Three-day celebrations
On the occasion of its 30th anniversary, various activities and events have taken placeup to now. However, their culmination will be a celebratory three-day anniversary event from today (1/6) until Saturday (3/6) at the Ionian Academy, featuring diverse musical and other events in which professors, students and alumni will participate.
"The celebration of the thirty years since the establishment of our Department is a good opportunity to look back at its many and diverse developments, primarily celebrating what we have achieved so far, while simultaneously fostering meaningful dialogue. This will allow us to strengthen our presence in tertiary music education in Greece in the best possible way," commented Ms. Siopsi.
International collaboration
Internationalisation is an area in which the Department of Music Studies has invested. For years, it has developed a vast international collaborative network, ensuring representation in the most significant international forums in order to monitor developments related to both study programmes and the development of entrepreneurship and employability in the field of music studies.
Furthermore, one of its main strategic objectives is to offer internationally-oriented music studies in Greece through the development of suitable partnerships. The aim is to establish itself as a point of reference in academic research, artistic creation and the development of innovative study programmes in the broader Mediterranean region. One of its most important actions in this direction was the establishment of the Mediterranean Network for Music.
From the academic year 1999-2000 until today, the Department of Music Studies has hosted over 250 visiting professors from universities and academies abroad, which is approximately equivalent to 12 professors per academic year. Additionally, on average, 30% of its faculty members annually visit corresponding universities and research institutions abroad.
Alumni
The contribution of the Department to academic development is undeniable. Many of its alumni excel in their academic careers at reputable universities in Greece and abroad. Equally significant, according to Ms. Siopsi, is their contribution to the development of the so-called "creative industry," which, despite the overall negative economic climate of recent years, is on a steady growth path.