Culture Minister visits Mon Repos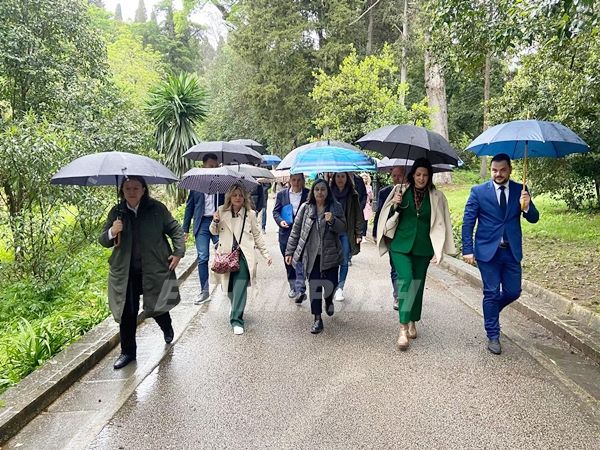 CORFU. The minister was updated on the progress of the restoration work. Clean-up of wooded area to begin.
The Minister of Culture, Lina Mendoni, is in Corfu today and paid a visit to the Mon Repos estate this morning. She was accompanied by the following government officials: General Secretary for Forestry, Kostas Aravosis; General Secretary for Culture, Giorgos Didaskalos and representatives from the Civil Protection and environment Ministries.
The government officials were accompanied on today's visit by Antiquities Inspectorate Director, Tenia Rigakou; Central Corfu Mayor, Meropi Ydraiou; Deputy Mayor for Technical Works, Nikos Kalogeros and ND MP candidate, Stefanos Gikas.
In the rain, the Minister of Culture was updated on the progress of the restoration works on the three annexe buildings, specifically the Mastrokostopoulos Guard House, the Clinic Building and the Personnel Building. Restoration work began in 2019 under the previous municipal authority.
In addition, as noted in a post by MP Stefanos Gikas, with the presence of the Forestry General Secretary, the clean-up of the Mon Repos wooded area is immediately being initiated in consultation with the Ministry of Culture andits inclusion in the "Antinero" Forest Clearing Programme, which is funded by the Recovery Fund.
The agenda of the Minister of Culture's visit is also expected to include the Old Town regulations, the restoration of monuments, Fortress enhancement projects and more.