Meropi Ydraiou: "Ionian University becomes the bridge that connects us with the Greek diaspora in America"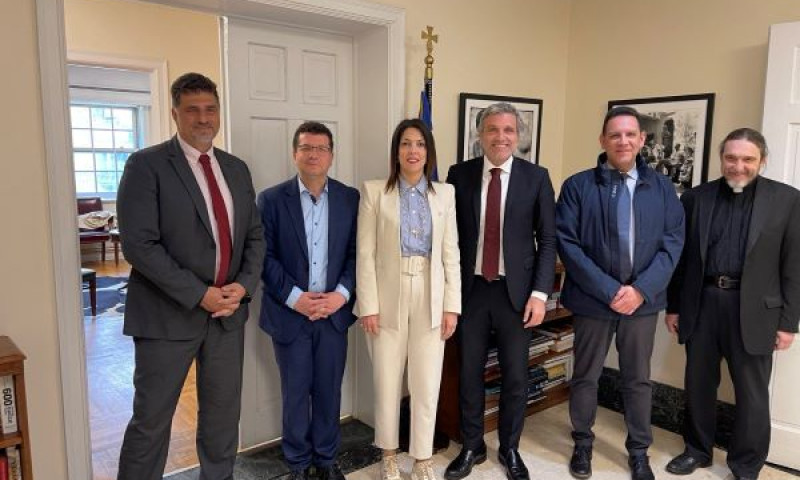 CORFU. The Mayor was in New York for the inauguration of the Ionian University΄s office and the national independence celebrations.
In America, the Central Corfu Mayor Meropi Ydraiou met with representatives of the Church, the Greek diaspora, the local government and important universities. She travelled there for the inauguration of the Ionian University's office in New York, while she also attended the celebrations for our national independence.

The Ionian University's office in New York will be the bridge to the Greek diaspora in the United States. As Ms. Ydraiou pointed out, in the project of creating the Ionian University's office in New York, four bodies are joining forces for the first time. These are the following:

- The Archdiocese of America, as the office is in the Church of Saint Spyridon in New York
- The Ionian University
- The Ministry of Education and the Central Corfu Municipality, which supports this project

"Through education and culture, we are bringing the Greek diaspora closer to us. Many expatriates and US citizens will learn about Corfu, we will promote our island. Sectors such as education and culture can be the link between our peoples and the new generation", said Ms. Ydraiou.

The Mayor attended the ceremonies held in New York for our national independence and, in particular, the annual parade which hundreds of expatriates watched, despite the rain, in an emotional atmosphere and with pride.

Ms. Ydraiou also met with the following:

- The Mayor of New York City Mr. Eric Adams
- Important personalities of the Greek diaspora in New York, including Mr. Nikos Alexiou, sociology professor at Queens College and founder/director of the first oral history archive, library and museum of Greek Americans in New York
- People in the tourism sector, whom she informed about the potential and advantages of Corfu
- The Greek Consul General Konstantinos Konstantinou

The Central Corfu Mayor said she was very touched and happy to have the honour to meet people who are the best representatives of Greece and Hellenism abroad. Ms. Ydraiou stated, amongst other things, the following:

"I have to thank Greeks of the diaspora from the bottom of my heart, who are fighting for the promotion of our nation, the strengthening of Greek-US relations, the promotion of Greek interests, the preservation of Greek identity, the promotion of Greek culture and the promotion of Greek education. Love for our homeland is the great strength of the Greeks."