St. George΄s Church packed for ΄Mikis Theodorakis΄ Symphony Orchestra concert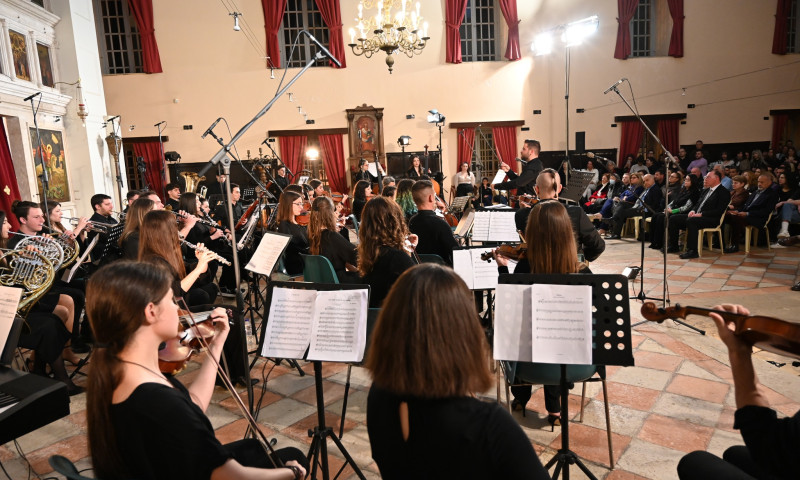 The audience thoroughly enjoyed the rich musical programme featuring works by Dvorak, Theodorakis and Gogidis.
CORFU (Mikis Theodorakis Symphony Orchestra). There was a sense of imposing grandeur and intense emotion on Saturday for the debut of the 'Mikis Theodorakis' Symphony Orchestra at the Church of St. George, Old Fortress
The Corfu audience filled the hall to capacity, enjoying a rich musical programme featuring works by Dvorak, Mikis Theodorakis and Gogidis, with the crowning moment of the concert being Dubois' "The Seven Last Words of Christ".
In the first part, musicians Andreas Karvounis, Myrto Livadioti and Isabel Weschka performed Antonín Dvořák's "Terzetto" with musical finesse, while the audience applauded the successful premiere of our conductor's work, "Edem."
The concert soloists, Rosa Poulimenou, Yiannis Christopoulos and Sotiris Triantis, accompanied by the Camerata Vocalis, delivered with characteristic detail and expressiveness the demanding work of Théodore Dubois, with a defining moment being the choral Dorian entrance shouting 'Crucify him', the irony of the tenors 'If you are Christ', and the 'End' from the percussion simulating an earthquake.
The Board of Directors would like to warmly thank the Municipality of Central Corfu, Corfu Inspectorate of Antiquities for granting the use of the church, the 'Capodistrias' Philharmonic Society and the Ionian Conservatory for the musical equipment.
Our warmest wishes for a Happy Easter,
Vassilis Spatoulas
PHOTOS: Vassiliki Manouilidou