Christina Adam art exhibition at the Municipal Gallery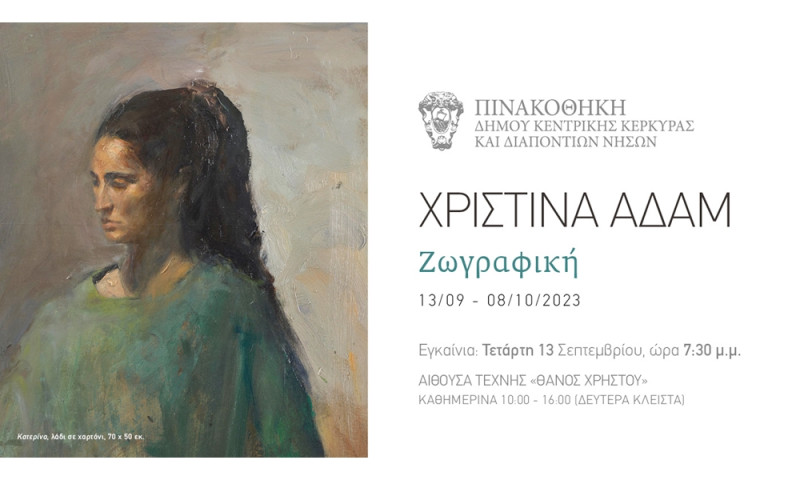 CORFU. The exhibition opens at 19:30 on Wednesday, 13 September in the ΄Thanos Christou΄ room at the gallery and will continue until 8 October.
The Central Corfu and Diapontia Islands Municipal Art Gallery is hosting Christina Adam's third solo art exhibition, introducing her to the Corfu public for the first time.
Christina Adam, initially a student of the painter Tasos Rigas in freehand drawing, studied painting at the Athens School of Fine Arts (ASFA) under the guidance of Chronis Botsoglou from 2002 to 2007.
She graduated with honors and continued her studies from 2008 to 2010 at the University for the Creative Arts (UCA) in the UK.
She has held two solo exhibitions in Athens (2014, 2017) and has participated in 20 group exhibitions in Greece and the UK. She has also taken part in Art Residencies in Milan.
Since 2022, she has been a member of the Art Group "Simio," with the painter Giorgos Rorres as her instructor.
The exhibition in the 'Thanos Christou' Room at the gallery includes 16 works of figurative painting with strong expressionist elements, featuring portraits, nudes and still life.
The artist herself describes her work:
"... I am interested in painting as a process. I usually work with models, objects, as well as some compositions. Observation is the starting point, through which I try to understand my subject and painting itself ..."
Christina Adam is a member of the Greek Chamber of Fine Arts. Her works can be found in the collection of the Frissiras Museum and in private collections. She lives and works in Athens.
The exhibition opens on Wednesday, September 13th at 7:30 p.m. and will run until October 8th.
Admission is free
Opening: Wednesday, September 13 at 7:30 p.m.
Venue: 'Thanos Christou' Room at Municipal Art Gallery
Open: Tuesday - Sunday, 10:00 - 16:00 (Closed on Monday & holidays)
Duration: September 13 - October 6
Contact: 26610 48690 / [email protected]