Exhibition of archival documents: "The Greek-Italian Crisis and the Corfu Incident"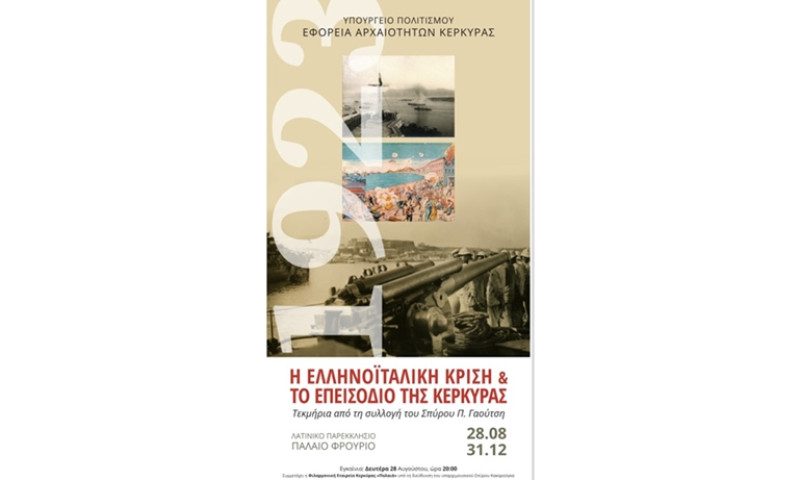 CORFU. Opening on Monday, 28 August in the Latin Chapel at the Old Fortress.
The Corfu Ephorate of Antiquities is organising the commemorative exhibition '1923: The Greek-Italian Crisis and the Corfu Incident' at the Old Fortress Latin Chapel. The exhibition features archival documents from the collection of Spyros P. Gaoutsis.
On August 31st, it will have been 100 years since the bombing of the Corfu fortresses and the occupation of the island by the Italian fleet. The Corfu Incident, as referred to in international literature, marked the beginning of Mussolini's expansionist policy and a bad omen for the future...
The exhibition portrays the events following the assassination of the Italian demarcation committee for the Greek-Albanian borders on August 27, 1923, the bombing and month-long occupation of Corfu by the Italian fleet and the appeals of the Greek Government to the League of Nations and international organisations to de-escalate the crisis.
Through a series of unpublished diplomatic documents and photographs, newspapers, proclamations and engravings, the emergence of nationalism in Europe is described, along with the explosive political atmosphere of the time immediately after the Asia Minor Catastrophe, the tragedy of the refugees, and the aftermath of the Corfu Incident on the international diplomatic stage.
Exhibition Duration: August 28 – December 31
Opening Hours: Daily 8:00 - 16:00
Exhibition Opening: Monday, August 28 at 20:00