΄Prussian Blue΄: Exhibition by Natasa Maneta at the Municipal Art Gallery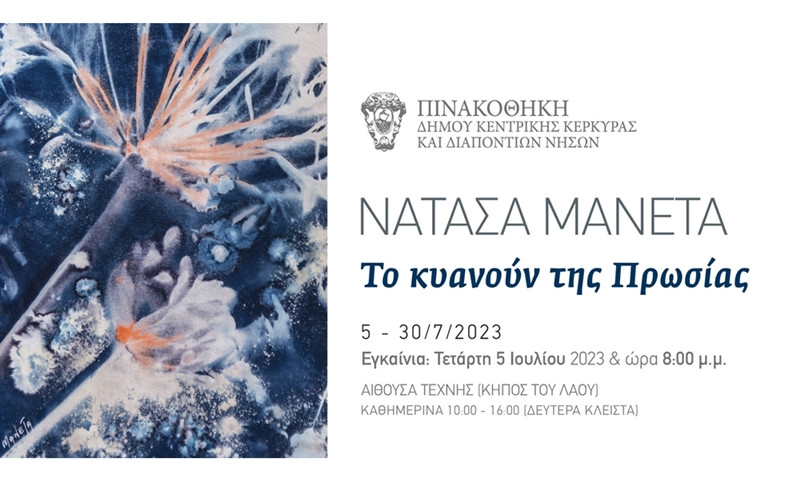 CORFU. Opening on Wednesday 5 July at 20:00 in the Art Hall (People΄s Garden).
The Central Corfu & Diapontian Islands Municipal Art Gallery will be hosting the second solo exhibition by Natasa Maneta in the Art Hall (People's Garden) from 5th to 30th July 2023.
Five years after her first art exhibition titled Bathers showcasing watercolours depicting everyday summer moments, Natasa Maneta is experimenting with the cyanotype technique and presents a different representation of nature through her own personal prism.
A series of cyanotypes on watercolour paper and photographic paper, inspired by the countryside of Corfu, bathed in dazzling summer light.
Although the source of her inspiration, the flowers and plants, remains the same, the result moves in a different direction from the works she has presented so far in group exhibitions.
Dr. Marina Papasotiriou, Art Historian and curator of the exhibition, states:
"What attracts our gaze in Maneta's cyanotypes is the way she has managed to create not only images but also textures. The way she composes three-dimensional materials, often heterogeneous among themselves, in order to create the sense of relief and simultaneously ephemeral, the sense of the real transforming into the dreamlike and intangible, the ephemeral and perishable in the face of the eternity of nature."
Natasa Maneta lives and works in Corfu.
She studied Political Science at the University of Athens and was active in the field of commerce for several years. She took painting lessons initially from the renowned Corfiot painter Marios Pierris and later from Spyros Alamanos, Fili Kentarcho and Kostas Tompros. She also apprenticed at the visual arts workshop of Sofia Stavrou.
Since 2013, she has participated in group exhibitions in Corfu, Athens, Lefkada, Paros and India. In 2018, she presented her first solo exhibition titled Bathers at the Plus Bookshop.
Exhibition Info:
Opening: Wednesday, 5th July at 20:00 - Art Hall (People's Garden)
Days & Opening Hours: Tuesday - Sunday, 10:00 – 16:00 (Closed on Mondays)
Admission free
Contact: 26610-48690, [email protected]