Product authenticity label in Corfu shops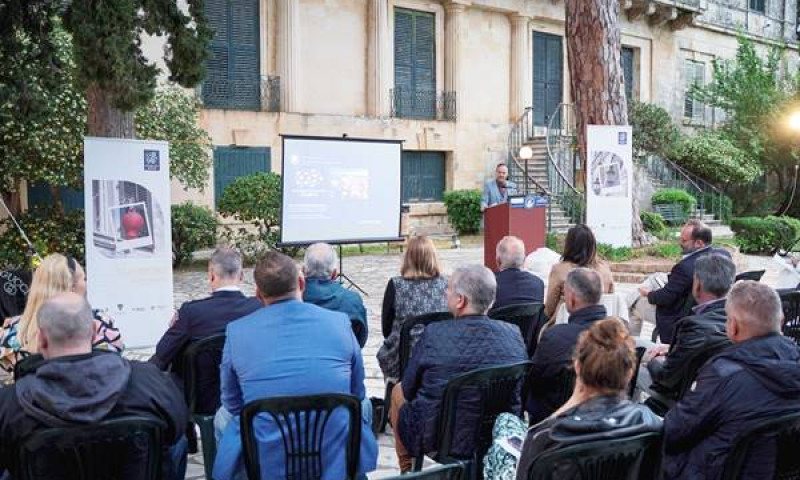 CORFU. Cooperation between the Hellenic Industrial Property Organisation (OBI) and the Central Corfu Municipal Authority.
The Mayor Meropi Ydraiou and the General Director of the Hellenic Industrial Property Organisation (OBI) Panayiotis Kanellopoulos presented yesterday in the People's Garden the European Programme "Authenticity" which concerns the authenticity label of Corfu's products. The event was coordinated by Mrs. Rania Zacharopoulou, OBI's Communication Expert.
The Central Corfu Municipality is participating in the programme with the aim to raise awareness amongst the citizens and visitors of Corfu on buying exclusively authentic products. In this way, the authenticity of local products can be protected and promoted against imitation and low-quality products. Essentially, there are benefits for the local economy and local products.
Through this programme, Corfu will become an 'Authenticity', while shops will be given the opportunity to obtain and place a special authenticity label and have a comparative advantage over consumers.
The Ionian Islands Region and the Corfu Trade Association will contribute to the implementation of the programme.
After thanking OBI, the Ministry of Development and Investment, the European Union Intellectual Property Office (EUIPO), as well as local government officials who will contribute to the fulfillment of the project, the Mayor noted that Corfu is entering the programme as the third Greek Authenticity.
"Corfu, due to its special identity and characteristics and its cultural profile, has an international port and airport, while it maintains one of the most active cruises. Thus, we decided to join this programme. Because authentic is always classic, authentic is always in fashion". She went on to say that "Corfu should be an example for other cities and municipalities in Greece and Europe. With an exchange of experience and actions, we can elevate this project".
Mr. Paolo Barbieri, Project Manager at EUIPO, presented elements of the 'Authenticities' project in Europe, while Mr. Spyridon Peristeri, Director of the Ministry of Development and Investment's Interagency Market Control Unit (DIMEA), presented the market control statistics on intellectual property.
The 'Authenticities' programme is a coordinated effort of EUIPO in cooperation with the Intellectual Property Offices (inventions, designs, trademarks) of the EU Member States, in order for European citizens to develop a culture of buying authentic products.
The programme on our island is being implemented following the signing of a memorandum of cooperation on 7 December 2022 between OBI and the Central Corfu Municipal Authority.
At the event, the guests had the opportunity to see samples of counterfeit products seized by the Interagency Market Control Unit.