The Attic Bazaart: Impressive bazaar of original miniature art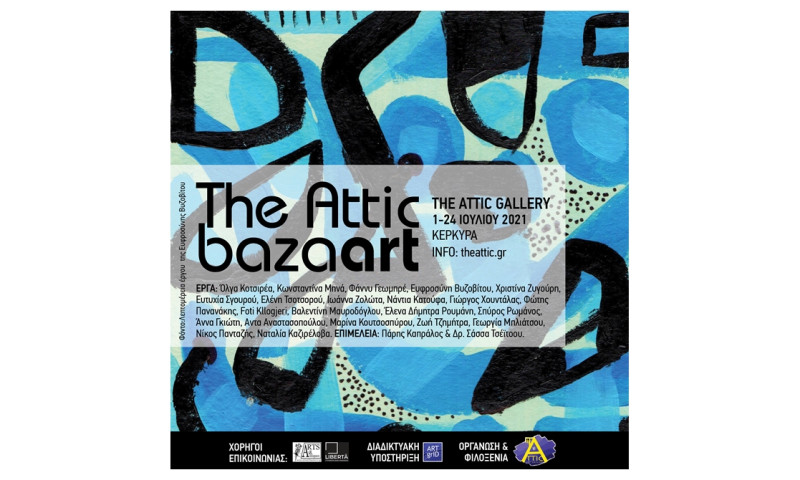 CORFU. Opening on Thursday 1 July. Monday-Friday, 6-10pm. Closed at weekends.
Dozens of artists from across Greece invite you to an Impressive bazaar of original miniature art taking place in the Attic Gallery and opening on Thursday, 1 July, 18:00 - 22:00.
The gallery and event is managed by Dr Sasha Chaitow, conceived and coordinated by Art Curator Paris Kapralos.
"
A work of art in general must project meaning and illustration into a limited visual space, and the dimensions of meaning will always surpass the available surface measurements. This is even more evident if a work is especially small. In this case the artist must narrate their truth without the help of a multilayered composition or multiple statements, but instead creates a symbol in itself – saying much with a single image. This is the Attic Bazaart's promise to the art-loving public: works that say a lot with very little
," said Paris Kapralos in a statement.
Dr Chaitow adds: "
A small surface obliges the artist to make decisions and choices that will reveal their mastery, for it doesn't forgive errors. The works selected for the Attic Bazaart include a range of materials and styles, demonstrating that art can fit in the smallest spaces. The artists have not cut corners on quality just because of the small dimensions, on the contrary, they unfurl miniature worlds with particular grace, making them accessible to every art-lover
."
Visitors will see original works of painting, drawing, etching, photography, and collage in a variety of styles and techniques, in small sizes and at low prices that belie their high quality.
Duration: 1-24 July 2021
Hours: Monday-Friday, 6-10pm. Closed at weekends.
Appointments: Write to [email protected] or call +302661401198 during opening hours.
COVID-19: According to current regulations, the maximum number of visitors allowed at any one time is 4 people. Masks must be worn inside the gallery.
The Attic Gallery
1, Rizospaston Voulefton St, Corfu, 49132.
(Former French Institute, side entrance, 2nd floor).