Music Ark: A new kind of entertainment for tourists...and more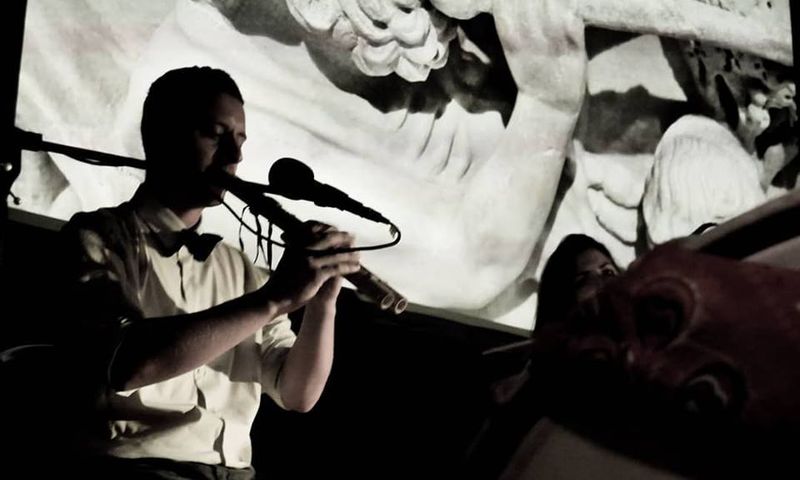 Ionian University Music Department
CORFU. The creator of this musical performance Panayiotis Telekoglou talks to Enimerosi.
The musical performance Music Ark made its first appearance in this year's tourist season. A new and appealing kind of entertainment for tourists quite different from the usual 'Greek Night'. Not only entertaining but also instructive, it presents in an easily understood way a musical journey of over 3,000 years. At the end of its first year in Corfu, we spoke to the person whose brainchild it was Panayiotis Telekoglou (graduate of the Ionian University Music Department), who was able to tell us more about this innovative programme.

Could you tell us about Music Ark - where the idea came from and what it hopes to achieve?

Music Ark is the first music and dance live performance in Greece which combines music from ancient times to the present and traditional Greek regional dances interactively with audiovisual materials and promotes contemporary Greek business potential through local products and services.

The idea was born when I was working at HB about two years ago and saw what 'Greece' meant to foreigners - what they bought when they were exposed to the brand name.

Taking careful note of what I was told by my dear friend Antonis Voumvoulakis from Crete - who has worked for years as a musician at hotels there - I decided that the time had come to create a musical programme that will give people a real taste of Greece.

Who are involved in the performance?

The performance involves three musicians, two dancers and a sound technician. I produce and direct it and do the folkloric and musicological research and most of those who have been involved in the creation of the programme are responsible for the music - Haroula Tsalpara, Elias Sillas and Kostas Petridis. And, of course, none of this could have happened without the continuous support and excellent collaboration of director/editor/'troubleshooter' Kyriakos Antonopoulos.

What made you choose Corfu for your first performances?

Corfu is basically where I grew up. I came here from Athens for the first time to study at the University Music Department and as you can see it has left its mark on me. Whenever I left, I would always come back. When you live somewhere for a significant period of time, then you undoubtedly meet important people and visionaries. For me, one of those people was Kostas Tsoumanis, who suggested that I should speak to some of the important tourism professionals in Corfu. They welcomed this new idea and that was enough to get things started.

What makes this different from the 'traditional' forms of entertainment for tourists in Corfu?

As I said, it is something more than the usual performances, it's the first music and dance performance in Greece which, interactively combined with audivisual material presents the contemporary business potential of our country. After at least six decades of established tourist entertainment we are presenting something new. We combine the 'Zorba' event, which has been put on countless times, without lighting fires on the floor (it's a child-friendly performance!), with how we locals enjoy traditional village fairs in the summer. From Othoni to Didymoteicho, from Gavdos to Cyprus. It is all, of course, based on folkloric and musicological research so that visitors can experience something authentic. With the interactive audiovisual presentation we offer a completely different experience not only for the tourists of 2018 but also for Greeks.

Apart from weekly performances at hotels, has Music Ark been involved in any other significant activities?

Recently, we were happy to present a children's version of our programme - Music Ark Kids! As part of the lesson 'The History of Music through Sound and Vision' at the Mantzaros Philharmonic Society, where we got a warm reception from the children for the history of musical instruments in Greek Music. It is our duty as musicians, artists and researchers to preserve and pass on this knowledge in a modern way that today's children are familiar with.

What are your plans for the future development of Music Ark?

My immediate plan is to enrol in the Postgraduate course 'Audiovisual Arts in the the Digital Age' at the Ionian University Audiovisual Arts Department in order to learn how to improve the programme and the children's version. Every year I invest, and I will continue to invest, my earnings in this project so that it can develop and I can 'pay back' the companies that put their trust in me and the people that have worked with me.